Poole Yacht Club Yachting World Day Boat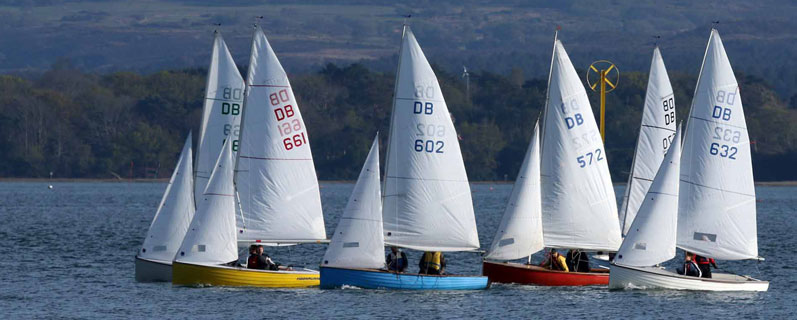 Welcome to the Yachting World Day Boat section at Poole Yacht Club! There are currently around 36 Dayboats at the club of which around 26 compete in the club racing with the others content to just cruise around the beautiful Poole Harbour. Our class racing night is every Monday and Thursday evening through April until the end of October in addition to this we also race most Saturdays. Another staple of our sailing calendar is the annual Yachting World Day Boat Open which is open to visiting Dayboats from other clubs. The first day of the event features a round the harbour islands event followed by an evening dinner. On the second day of the event The Newton Trophy is up for grabs after three races. Yachting World Dayboats have been a class at the club since the early 1950's. Having previously been kept on swing moorings at the old club the Dayboats now occupy their own pontoon within the Haven, this allows us access to Poole Harbour at all states of tide. If you're interested in finding out more about us or how to join The Yachting World Day Boat section then please get in touch!
Class Contacts
Natalie French
Class Captain
Phil Lokier
Social Representative
Wendy Davies
Results Secretary
Hire a Dayboat
WOULD YOU LIKE TO SAIL DB ELIZA?
Eliza is owned and maintained by the Dayboat fleet, she is fully insured and race fees have been paid. If you would like to sail her we ask for a small donation towards her upkeep; £5 for a morning or afternoon and for the same donation she can be used for Monday, Thursday or Saturday dinghy racing and also Friendly Fridays.
She is berthed on the DB pontoon E3.
Step into the boat rig up and sail off without getting your feet wet.
To Book Eliza - SEE THE DAYBOAT NOTICE BOARD.
For further information contact:
Natalie – nf.ywdb@gmail.com or
Roy – roy.pooledb@talktalk.net

Yachting World Day Boat Specification
Designer:
O'Brian Kennedy
Portsmouth Number:
1200(SY)
Measurement
Feet
Meter
Length
14'​​
4.2
Beam
​​​​5'8​​​​​
1.75
Draft
​​​​4'10​
1.75
Sail Area
Sq. Feet
Sq. Meters
Main Sail
132​​​
​12.26
Weight(min):
​​​​ ​​​​450lb 204KG
Construction:
​​​Wood, GRP.