Welcome to the 2022 Club Forum
Thank you for zooming into this important Club Event:
We were hoping that this Club Forum would be face to face at the Club. However, we concluded that would not be possible due to the continuing covid pandemic risk. Thank you for the understanding and good humour you have shown during these periods of restriction and / or lockdowns or the last 20 months.
The Covid Group, and other committees over the last year, have been working very hard on our behalf and we all must extend a big vote of thanks to these volunteers and those members that volunteer in so many ways, together with our great band of Night Watch Team Members.
Thank you to our team of staff colleagues for all their efforts during the last year. So many members have been communicating with me recently and asking me to pass on sincere thanks for "often going that extra mile, particularly in the these difficult times."
---
So, now to the Club Forum:
Those member new to the forum process: It is held at this time of year to give you, the members, the opportunity to ask questions, put your comments and observations forward.
Tonight we have on the panel with me, Adam Deary, Vice Commodore Yard & Haven, Tracey Lee, Rear Commodore Sailing & On The Water Activities and Kate Mellor, Honorary Treasurer, together with Mark Fulton, our General Manager.
Some questions have been submitted already and thank you for those.
There will be an opportunity for you to submit your questions live via the ZOOM chat box and this evening's ZOOM Administrator, Mark Fulton, will help us through the ZOOM process. Lorna Whitehead is also assisting with the handling of the questions.
To start us off, The Flag Officers will each speak for a few minutes on their respective areas of responsibility and interest within the Club; looking at the recent past and turning to look towards the future.
If we need to research to give the answer, we will get back to however raised the question, after the Forum.
As in previous Forums, we do not keep minutes of the Forum, but Mark does keep notes so that we can capture key points and raise them at General Committee for consideration or / and review.
---
Our Annual General Meeting is approaching:
Our AGM lead-in is almost upon us and details of that will be soon sent to you. That will be an opportunity for you to consider putting a proposition forward for a possible change our Rules and / or Bye-laws. Additionally, you may feel the time is right for you to consider standing for General Committee. Please talks me about this prospect, if I can help at all. If you feel the time is now right for you to stand, why not put your name forward?
Now to over to our Flag Officers….
Commodore's Challenge Trophy Returns to Poole Yacht Club
1 / 2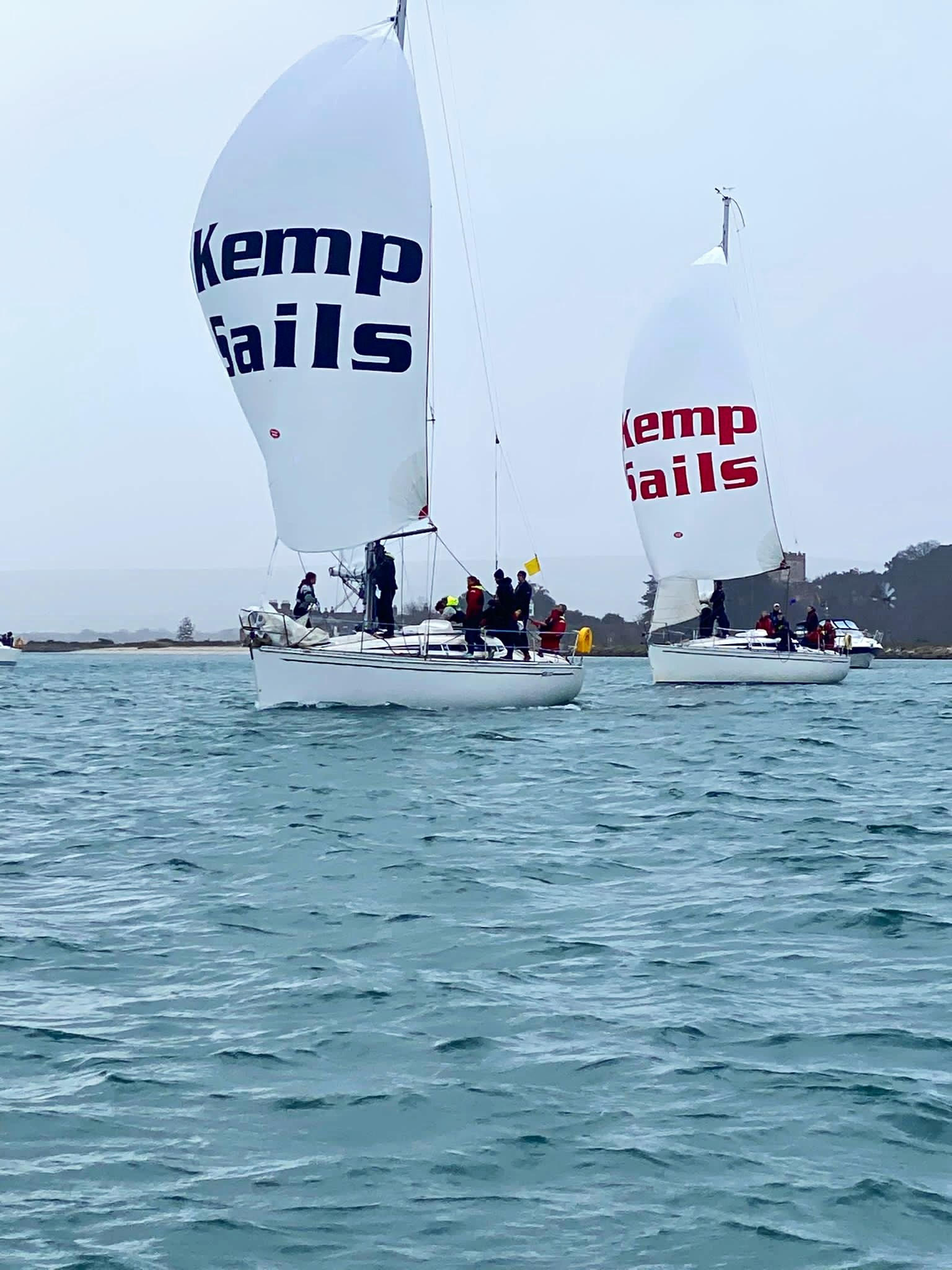 2 / 2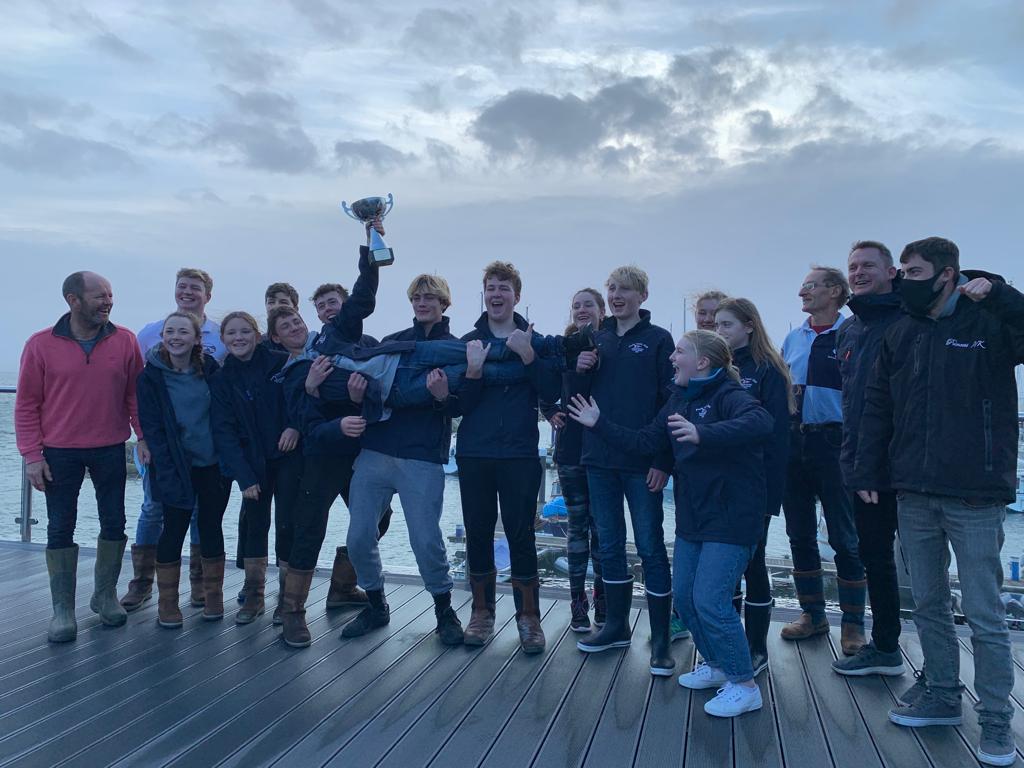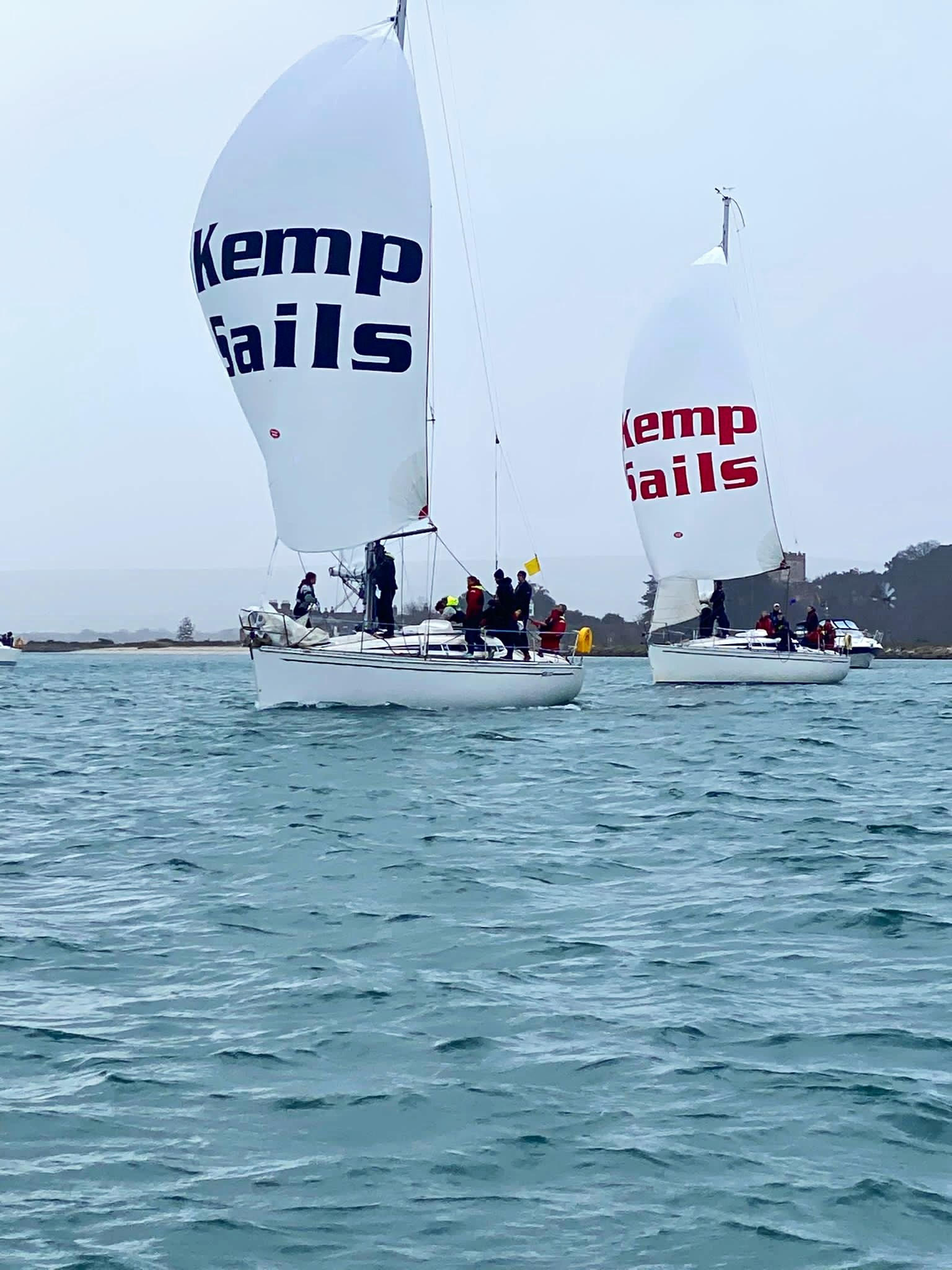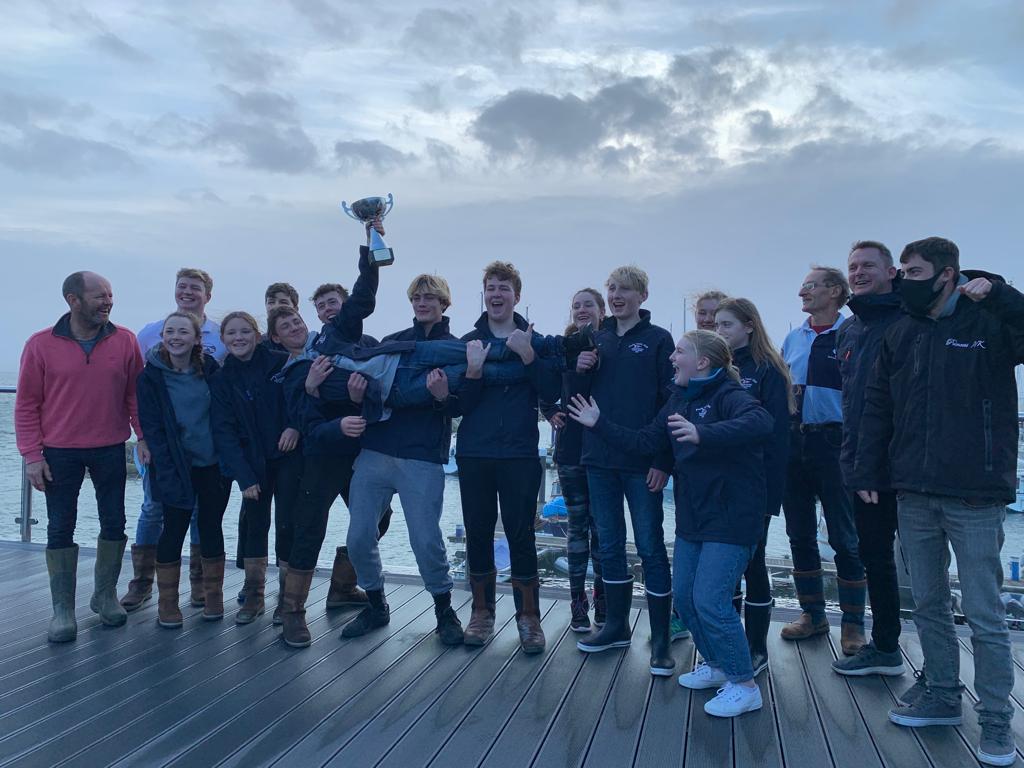 After weeks of practice, the Poole YC Commodore's team won the first 3 of a maximum of 5 races against the team from Parkstone Yacht Club. Both teams sail an Elan 333 in the annual match racing competition, and all members of the team must be under 18 years of age on December 27th.
Oli Hale was helm for the Poole YC team and he and his teammates demonstrated a sophisticated application of the match racing rules.
In the first race, the Poole boat used their starboard advantage at the start to force the Parkstone boat away from the start line, then tacking back to the start and maintaining their lead with close covering of the Parkstone boat.
In the second race, having rounded the windward mark neck and neck, the Poole boat was unable to raise their spinnaker. But the Parkstone boat was windward of the Poole boat, so Oli turned the Poole boat to windward, forcing the Parkstone boat to luff and ultimately incur a penalty. This meant that still without a spinnaker for the downwind leg, Poole won the 2nd race.
For the 3rd race, both boats used the racing tactics more recognisable to those of us who do fleet racing, crossing each other on opposite tacks although the Poole boat again used legitimate luffing to gain an advantage on the downwind leg.
The racing team were Oli Hale (helm), Amber Hale, Tom Clayton, Millie Whittaker, Tom Cluett, Lily Eyre, Toby Griffen, Lucy Griffen, Chris Nunn and Ethan Topping, with Lottie Eyre and Annabelle Topping as reserves. Becky Russell and Beth Prior were unable to take part due to falling ill with covid.
All in all, it was a fantastic sporting event and John Yonwin and I were both thrilled to see the teamwork and commitment from Poole YC: from the sailors themselves, the team of coaches who have been training with them, the boat owners who so generously lend their Elans for practise and the race itself, Rob Kemp for donating the sails and all the many family members and supporters who came out in support of the competition.
Tracey Lee
Rear Commodore Sailing and On the Water Activity
Important Notice - Dinghy Park Spaces 2022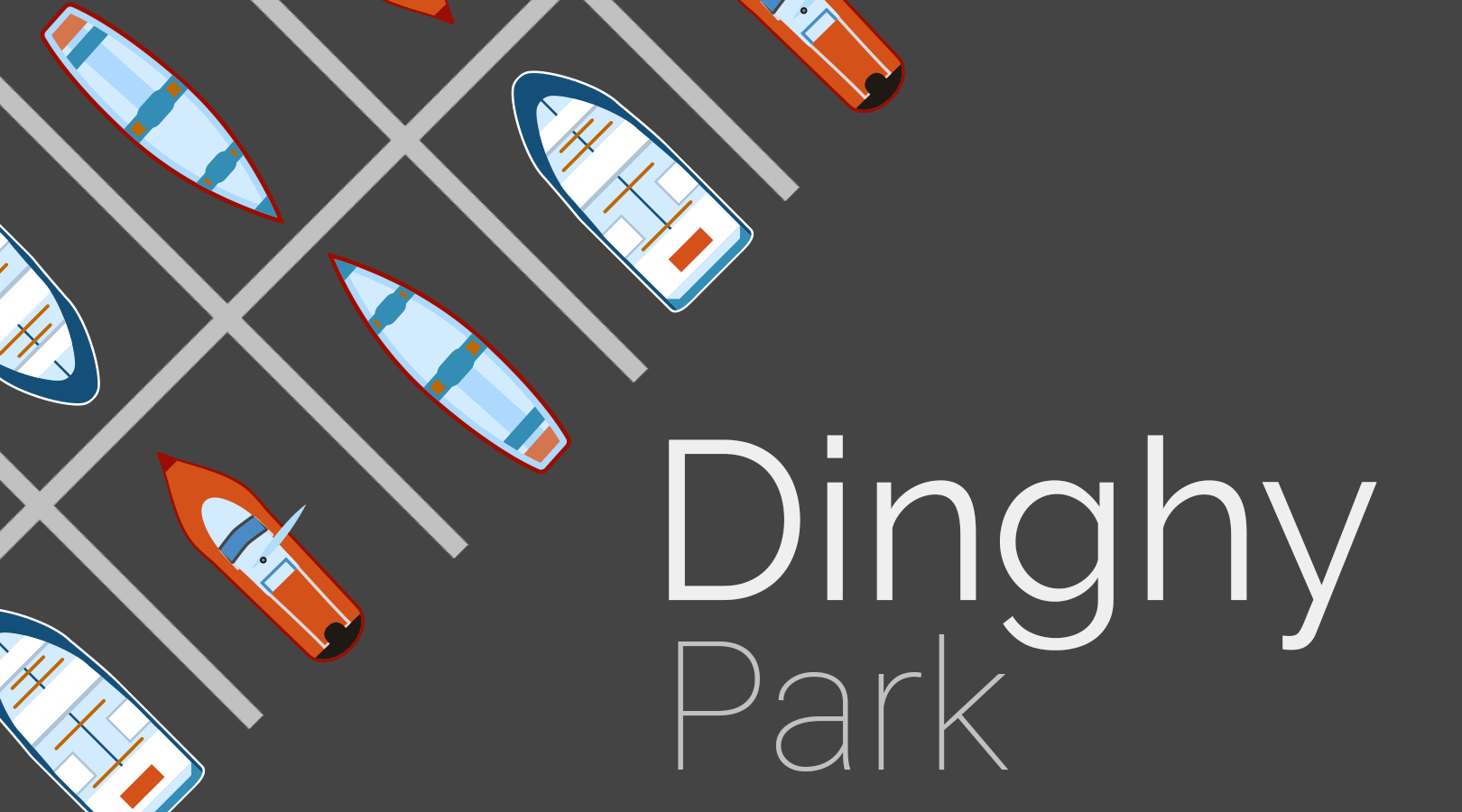 Due to unforeseen circumstances, Dinghy Park Spaces will not be available for booking on 01/01/2022; either online or via the paper application form. This is thankfully just a temporary blip.
I will be sending out a note during the week beginning 03/01/2022 giving you details on how to go about booking your space online and how to access your account using the Club's new management system.
Dinghy Park spaces will become available for booking from Monday 10/01/2022. I ask you to please not contact the Office with any queries re Dinghy Park Spaces until after you have read the 'how to' email.
I apologise for any inconvenience caused and would like to take this opportunity on behalf of all the staff to wish you and yours a very Happy Christmas and everything of the best in 2022.
Mark Fulton
General Manager
Environmental Webinars
Next week The Green Blue will be holding three webinars titled 'Sustainable Anchoring & Moorings:
Protecting our Marine Habitats' as part of the LIFE ReMEDIES Project.
Each webinar will cover the importance of seagrass, threats to these habitats, how boat users can help safeguard them as well as covering an overview of what the ReMEDIES Project is doing in each project site.
All will be run from 19.30 to 20.30
Falmouth/Helford – Tue 14th Dec
Plymouth Sound - Wed 15th Dec
Solent Maritime – Thurs 16th Dec

Register Here
The Solent talk does not specifically cover Studland, we will provide an update on Studland separately
For background, The Green Blue project is a RYA initiative www.thegreenblue.org.uk And finally, for Twitter users, please see
Brian Snelgrove
General Committee
Matt Burge wins the Osprey National Championship and the Fireball National Championship
Matt Burge wins the Osprey National Championship and the Fireball National Championship
Glen Truswell wins the International Canoes National Championship
1 / 1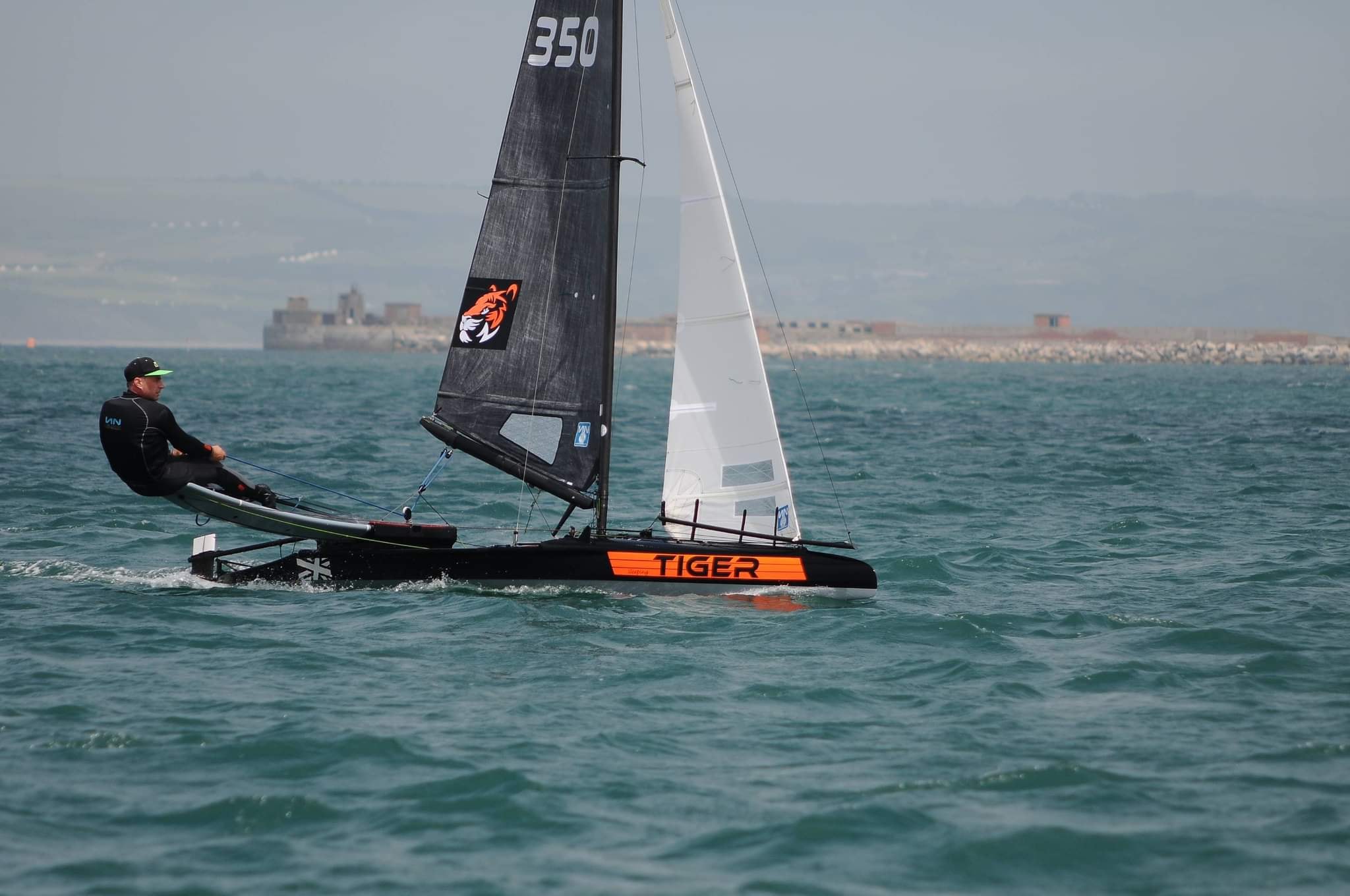 Glen Truswell wins the International Canoes National Championship
Kate Macgregor and her all-female team win the RYA National Match Racing Championship 2021
Poole Yacht Club's Kate Macgregor and her all-female team win the RYA National Match Racing Championship 2021
Read the RYA Article
MMO Studland Habitat Protection Strategy
The process has taken several turns this year. We have regularly updated the General Committee and we now feel that it's time for an update for all of us, while we wait for more clarity from the Marine Management Organisation (MMO)
Read a simple briefing on the current situation with the MMO.
Read our response with the Club's position
For those of who would like more detailed information, the briefing has a link to the MMO's full document.
Read the RYA's response
We will continue to work with and through the RYA, and the other Clubs in the area, to make sure that our right to use Studland Bay is maintained, and at an affordable price.
If you have any questions or comments, please email StudlandBayMCZ@pooleyc.co.uk
We look forward to hearing from you
Thanks and regards
Brian Snelgrove
Sailing and General Committee
Brian Snelgrove (Sailing and General Committee) and Howard Davidson on behalf of the General Committee
Club Guidelines and FAQs
Rules from Tuesday November 30th 2021
Covid-19 virus has evolved to give us the Omicron variant. No one knows how serious this will be but it is incumbent upon us to be cautious to minimise the risks of serious harm to our members, staff and visitors. The symptoms have changed and now a runny nose, headache, sneezing and sore throat are also indications that you might have Covid-19
Please must wear a mask when not seated (and preferably when not eating)
Use the hand sanitizers
Do your own lateral flow test before coming to the Club
Do not come if you are unwell in any way, even if it is "just a cold" or sore throat
Follow Government advice and isolate if you are in contact with a sufferer
Avoid crowded queues at the bar
Avoid close contact with staff
Accept that the doors and windows may need to be open for ventilation
Be patient as service may be slower than usual
Continue to register your attendance using swipe card, QR code and sign in register
Not everyone has been fully vaccinated and a 95% effectiveness of a vaccine means that 1 in 20 of us are still at risk. If 100 people are in the lounge that means that 5 are not immune and you could be one of them. With the current rates and the number of asymptomatic cases, it is likely that there will be people with the virus at any large event.
Hence, the request to be kind and considerate to others
Safety Boat News #01
Boats Affected : All Club Safety Boats
Hi Folks
Welcome to the first edition of Safety Boat News!
What's to tell
There is a new engine ordered for Safety 10, a delivery date has not been given as COVID 19 is causing logistical problems in all areas of world industry. The old engine had failed and was beyond economical repair.
We are in the process of replacing Safety 06 in its entirety. This has been approved by GC as part of our budgeted safety boat and engine replacement plan. We are currently at the quotes stage with potential suppliers and will advise progress in future updates.
Slowly but surely there is an MLU going on (mid Life Upgrade)

Nav Lights will be replaced with LED based Nav Lights like those on Safety 8 & 15. They are bomb-proof, I have never had an issue with light failure on those two boats.
Bilge Pumps – we will be trialling a Whale Bilge pump on Safety 03, to see if it's more reliable than the existing Rule pumps. Three bilges pumps have been replaced recently. In one bilge pump there was a whistle from a life Jacket wrapped around the impeller which burnt out the motor.
Lastly, new cable (fully tinned) is being used to rewire the cables to the bilge pumps, with easy change connectors, this is all in an effort to improve bilge pump reliability.

We have a number of rope boarding ladders available to use for duties, they are in the bottom of the radio cupboard in the sailing office.
The weather has not been very nice through the spring, let's hope better weather is coming.
The On-Going issues
In my recent Safety Boat inspections there are a lot of issues turning up that I thought we had buried long ago. I thought that a reminder may be timely and also impart the knowledge to some of our newer volunteers.
Please, when you have finished using a rib, can you check the following and leave the boats in the condition that makes it easy for the next volunteer to use the boat?
Please make sure that the boat keys are returned to the club at the end of your duty.
Do not set the engine tilt lock, its only use is when the boat is being transported on a trailer
Leave the safety kill cord in place on the boat.
Take all your litter and recyclables away when you have finished using the boat.
Check the under-seat lockers and remove any rubbish.
Moor the boat with the aft mooring line going through the first rung of the A frame to keep to line from rubbing on the tube.
Wash down the control console with fresh water, including the radio mike, just play the water across the hand mike for some time in order to wash the salt out, the hose is on the pontoon.
When you pick up a safety boat for your duty shake the radio mike to get rid of any residual water.
Remember 'OXO' when mooring the boat to a cleat, wind the mooring rope once around the cleat then do the cross so that there is one cross only and then wind the remainder of the mooring line around the cleat, at the end give the line a tug so that it sets. I have seen ropes with 4 or more locking turns on the cross.
Check for rubbish in the bilge pump pit at the rear of the boat and clear it out.
If the anchor hatch will not close, especially on Safety 08 and 15, you need to take out all the mooring warp and place the anchor in the bottom of the anchor well., then place the warp around the anchor. This will allow the hatch to close easily. Applying too much force on the hatch lid may lead to a breakage, we've had to replace a few.

Don't forget the information that we have available on the website, see Volunteering. Please scroll through to the bottom of the page!

Lastly, many thanks for your support to Club Racing by volunteering, it is very much appreciated. Please respect club property as if it is your own and report faults on the sign- out form so that we can progress the repair. There is much dedication behind the scenes to ensure that you have the correct working equipment to fulfil your club duty

Happy Sailing and enjoy your time on the water, Simon

Simon Lawson

Club Safety Boat Bosun
Report on the 2021 Poole Osprey/Fireball Open
The forecast was for light winds but warmer than the arctic spring we have endured.
In fact, it was "Champagne Sailing". Anyone who did not come because of the forecast missed a treat. Outside of the harbour, the wind was 4 knots but inside, the sea breeze gave us 14 knots in the sun. Registration was very swift thanks to the online booking and no grubby notes had to change hands. Tracey Lee, our vice commodore welcomed us to the first open meeting at Poole for a long time. Race Officer Steve Thompson led a superb team and explored our stamina with 4 races on the Saturday (in case the forecast for Sunday came true) and 2 on Sunday similarly perfect conditions. 15 Ospreys set off 5 minutes ahead of the 3 Fireballs on each occasion with very little waiting between races and perfect reaches, occasioning many whoops of joy.
Matt Burge and Vyv Townend took the honours with 3 firsts and 3 seconds, narrowly edging Terry Curtis and Peter Grieg into second place whose 6th and a discarded 8th places to held them back. Previous victors, Piers Strong and Phil Angrave were third coming fairly consistently second or third but were hampered by a seventh place in the first race and fifth in the third race.
Places changed very frequently and there was competition throughout the fleet, with a few Poole boats battling it out at the rear but having no less fun. When asked what happened in the races quite a few competitors admitted to knowing they had enjoyed a memorably wonderful series of races but the details were a blur. This was possibly due to the salt-water spray we enjoyed on the reaches.
Mike Atkinson was most upset to find his sail obeying the laws of gravity during the third race but in the end, it was academic as he had failed to follow the laws of starting (he was OCS). Robber's Alley treated us to a spectacular capsize as their new spinnaker ropes escaped from their cleats. Pete Smith decided to exchange Osprey Sailing for a spot of water skiing when his trapeze wire snapped. Basher did not seem to notice and carried on regardless. It was probably the crew's fault anyway! Ian Hart and Andy Edmonds were desperate to climb up the rankings but their equipment put them out of the final race, just as they were about to reach warp speed on the reach. Nick Willis, with local guest helm, Andy Brewer, were never far from the front, and showed great form given that they met for the first time on Saturday morning. Also, Roger and Jamie Blake showed their potential with a couple of really strong races, including leading the fleet around the first 2 laps of race 3, until a couple of shifts went against them.
One very welcome competitor was Richard Hartley who joined his son Mark and came seventh overall. We are eternally indebted to Hartley Laminates for injecting new life into our fleet and delighted to hear Richard saying that he enjoyed it so much he would be back. He also put in a plug for his (excellent) boats!
The Fireball's under Derian and Andy Scott had hoped for a strong fleet but in the end only 3 boats joined us. They contacted the rest of their fleet to tell them what they had missed. Derian and Andy won all of their 6 races. It was great to sail with the Fireballs and in the hope that Covid fears will be gone by next year, we have pencilled in a repeat event, dates to be confirmed
Studland Bay Marine Conservation Zone
Proposals may well affect you and our boating
In a stakeholder discussion on 18th March the Marine Management Organisation (MMO) announced that they plan to introduce a no anchor zone, covering at least the seagrass area where most leisure boats anchor, in this 2021 season. It will effectively ban anchoring in much of the southern half of Studland bay.
In that meeting an assertive consensus was expressed for providing recreational access, probably through moorings, and an introduction over a longer timescale. This came from broad range of interested parties and an academic source.
There will be a public discussion hosted by the Dorset Coast Forum on Thursday 25th March at 7pm. If you feel strongly about this issue you can attend and read about it by going to https://www.dorsetcoasthaveyoursay.co.uk/studland-bay-mcz
Read More about Studland MCZ
The Dorset Coast Forum web page gives a broad description and as you scroll down the right hand side of the webpage you will see some relevant documents and a link to register to attend.
Brian Snelgrove
Sailing and General Committee
Response prepared by Brian Snelgrove (Sailing Committee and General Committee) and Howard Davidson (Volunteer Consultant)
The Future of Recreational Boating at Studland
Update to Poole YC members as at 28th February 2021
The MMO have reviewed the response to their request for evidence on the Studland Bay MCZ. Their email is appended and many of you who made individual submissions will have received your own copy. The email has a link to the MMO website where all their lasted published information is displayed. There is much detail on their site and we have tried to condense it
What are the key points
The MMO documents are extensive and cover anchoring, mooring, speed, diving, PWC, all subsea types etc. They have now concluded they currently only need to address the risks from anchoring. They believe the evidence shows that it has an impact on the sea grass beds, and consequentially the health of the sea horse population. The options that they are considering could range from voluntary no anchor zones through to a total ban on anchoring
They have concluded that the current moorings ( 13 ) are not numerous enough to cause a problem and they are therefore not going to take any action. They have said that any proposals for increased mooring would have to go through their normal application process to be checked that they will not damage the conservation interests. They have indicated they are willing to work with interested parties to look at new moorings.
What is the next stage
The MMO next want to engage in a focused discussion with all stake holders to examine the way forward. In early March they will be setting up a virtual forum with all interested stakeholders. We will keep you posted. If you sent a response to the December MMO request, you should be invited.
This discussion is intended to allow them to come to a conclusion on the detailed actions they will take.
What is the Club doing?
We have had a meeting RYA and PYA. The RYA have said that they are happy to take the lead in putting forward recreational boating interests. We will continue to work with them and other interested parties. We now need to wait for the MMO's invitation and their more detailed opinions
What do you need to do
If you are invited to join the consultation please do. If you want to see what the MMO said about your individual comments you can see this in their FAQ section by following the link in their email below.
While we wait for the next MMO communication you may still have comments. Please email them to training@pooleyc.co.uk where they will be collated.
Summary position.
The club recognises that having a fantastic natural environment on our door step is something that we should cherish. We believe that the best way forward now will continue to work positively with the MMO and other parties. We would want to press upon them that the Yacht Club community want to find a way forward that allows us to continue anchor or moor in Studland Bay in a way that is compatible with allowing the sea grass and sea horses to flourish.
Brian Snelgrove
Sailing and General Committee
Flare Disposal
In case you are not aware below is important information about flare disposal.
The Department for Transport (DfT) has opened a new consultation on the disposal of pleasure vessel marine flares, and is inviting comments on four suggested options.
The consultation specifically focuses on flares carried on board leisure vessels and does not include those carried on board vessels used for commercial activities.
The options are:
Allowing the current contract to expire with no further action.
Continuation of the existing disposal service.
Creation of a fully regulated framework for disposal of flares.
Creation of similar existing disposal arrangements by the pleasure vessel industry.
The consultation period will run until 15 March 2021. You can respond to the consultation by downloading the response form and emailing this form to TEPconsultation@dft.gov.uk.
"Lilla" Award for Outstanding Contribution/Achievement to The Poole Yacht Club
The "Lilla" Salver is awarded annually by the Flag Officers to a Club member or group of members who have made an outstanding contribution or achievement to our Club during the previous year. It will be awarded at our AGM in March 2021.
The award is for achievements or contributions for the period January – December 2020.
Any Club member from any membership category is eligible to receive the award. Members of the General Committee and Club Employees are not eligible. The eligibility criteria encompass any outstanding contribution or achievement. e.g., An outstanding contribution to volunteering, a truly exceptional racing result, exceptional assistance to other members etc.
Whatever the reason for nomination, the person or persons nominated will have made a positive contribution to other members in the Club or will have put our Club in the spotlight in a very positive manner.
Our members will decide who they wish to nominate and submit such nominations to the Flag Officers. The Flag Officers will consider all nominations received and their decision will be announced at the AGM and the "Lilla" Salver awarded.
How to nominate a member for the Flag Officers "Lilla" Salver:
Two members must propose the nominee.
There must be a statement for proposing the nominee.
The statement must be no longer than 200 words. If necessary, the Flag Officers may wish to discuss the nomination with the proposers to further understand the proposal.
The proposal must be sent by email to our General Manager, Mark, headed "Lilla" Proposal: genmgr@pooleyc.co.uk
Closing date for proposals is 28th February 2021.
We look forward to receiving your nominations.
General and Sub Committee Schedule 2021*
Month
19:00 (W)
20:00 (S)
H, B & C*
17:00
Y & H*
18:00 (W)
18:30 (S)
Social*
19:30 (W)
20:00 (S)
Sailing*
19:30 (W)
20:00 (S)
General**
19:00
Mem. *
19:00
IT*
Jan
11
11
11
11
FORUM-26
25
13
12
Feb
8
8
8
8
22
17
9
Mar
8
8
8
8
AGM-20
29
17
9
Apr***
12
12
12
12
26
14
13
May
10
10
11
10
24
12
11
Jun
7
7
7
7
28
16
8
Jul
5
5
5
5
26
14
6
Aug
No
Committee
Meetings
In
August
#
#
Sept
6
6
6
6
27
15
7
Oct****
4
4
4
4
25
13
5
Nov
8
8
8
8
29
17
9
Dec
6
6
6
6
20
15
7
* Meeting Times/Days may change please see agenda when sent out.
** Flag Officers meeting will be held thirty minutes prior to General Committee meeting.
Bank Holidays: 1 Jan; 2 Apr & 5 Apr; 3 May & 31 May; 2 Aug & 30 Aug; 25 Dec & 26 Dec.
British Summer Time Begins: 28th March / Ends: 31st October
*** Meetings start as per Summer times. **** Meetings start as per Winter times
Opening remarks for the Club Forum from John Yonwin
Welcome to the 2021 Club Forum
Thank you for zooming into this important Club Event:
First off….a THANK YOU to the vast majority of members that have supported all the bulletins of dos and donts that have been issued over the last 11 months, necessitated by the Covid pandemic…it seems like a life time….As you can imagine, the Covid Group and your General Committee took no pleasure at all in having to put in place such draconian measures.
Whist in thank you mode, the hours put in by the Covid Group and other committees over the last year has been fantastic and we members do owe a big vote of thanks to those members for the all the time put in, also to our great band of Night Watch Team Member Volunteers. Thank you to our team of staff colleagues for all their efforts during the last year.
Past Commodores briefed me by saying "Being Commodore is easy peasy, just don't drink too much at the round of Cocktail Parties you and Pat will attend…." Well, the first year has turned out slightly different than that, not so easy peasy and not a cocktail party in sight!
But let us hope that we may be beginning to turn the corner with this retched virus and we can, just may be, start to see our lives return to some form of new normality and the our Club can fire up again in the not too distant future.
So, now to the Club Forum:
Those member new to the forum process…..It is held at this time of year to give you, the members, the opportunity to ask questions to the panel.
Tonight we have Adam Deary, Vice Commodore Yard & Haven, Tracey Lee, Rear Commodore Sailing & On The Water Activities, Simon Philbrick, Rear Commodore House, Bar & Catering, Kate Mellor, Honorary Treasurer, Tim Edom, Chair of the Membership Sub Committee and Mark Fulton, General Manager.
Some questions have been submitted already and thank you for those.
There will be an opportunity for you to submit your questions live via the zoom chat box and this evening's Zoom Administrator, Kate Macgregor, will help us through the zoom process. Lorna Whitehead is also assisting with the handling of the questions.
To start….The Flag Officers will each speak for a few minutes on their respective areas of responsibility and interest within the Club; looking at the recent past and turning to look towards the future.
We can learn from the former and work on the later. We will do our upmost to answer the questions as fully as possible during the Forum. If we need to research to give the answer, we will get back to however raised the question, after the Forum.
As in previous Forums, we do not keep minutes of the Forum, by Mark does keep notes so that we can capture these and raise them at General Committee for consideration or / and review.
Our Annual General Meeting is approaching:
I am very mindful that our AGM lead-in is almost upon us. I am sure that in recent years, as a result of the Forum, some members have decided to put in a proposition to the AGM for the membership to consider a Rule or Policy change. Will this year see the same?
Additionally, you may feel the time is right for you to consider standing for General Committee and / or one of the Flag and Officer positions. All Officers and Flag Officers have to be voted in annually.
I have thoroughly enjoyed my years on General Committee and the various volunteering jobs I have undertaken, and if you feel the time is right for you to stand, why not put your name forward?
Finally:
I have been proud and pleased to have been elected as your Commodore and I know that our Club is one of the best around. When asked, especially by prospective members, why I feel that; it just seems to work so well with all the various classes, events, members, the volunteering, fantastic club house, our team of staff colleagues and great access to one of the best stretches of water anywhere….
Whilst being your Commodore, I will do my utmost to ensure that the objects and traditions of our great Club are protected and nurtured and we will journey into the future with confidence.
Now to over to our Flag Officers….
The Future of Recreational Boating at Studland
Hello everyone,
Last year Studland became a designated Marine Controlled Zone (MCZ) and there is now a request for comments and suggestions on how it will be managed. The closing date is 15th December 2020.
It is the responsibility the Marine Management Organisation (MMO) to determine the management of the Marine Controlled Zone at Studland.
The MMO is considering what needs to be done for the preservation of the environment and marine life in that area.
A meeting attended by representatives from Poole YC, The RYA, The Poole Yachting Association including Parktone and Royal Motor Yacht clubs, and Salterns Marina was held to discuss the options put forward by the MMO and the implications for recreational boating activity in that area.
Broadly there is a consensus that The RYA should respond on behalf of all boating activity, recognising the need for conservation and protection of the seagrass beds at Studland, but at the same time seeking a largely voluntary code of practice. The yacht clubs will each be making their own representations on the specific options and in line with this consensus.
There was a general consensus for a statutory speed limit in the Zone and very much against a total ban on recreational boating; the latter option is the most severe of those put forward by the MMO.
If you wish to make a personal statement to the MMO, details can be obtained at https://consult.defra.gov.uk/mmo/call-for-evidence-mmo-mpa-assessments/ where there is a response form and further information about the consultation.
We will keep you posted as to developments on this issue and thank you for your support in this.
Signed Tracey Lee RC Sailing & On the Water Activity
Brian Snelgrove
Sailing and General Committee
Ellie's latest kite foiling success
Congratulations to Ellie Aldridge winning a silver med at the 2020 Formula Kite European Championships in Poland.
Angus Kemp makes GB sailing team Laser radial youth squad
1 / 1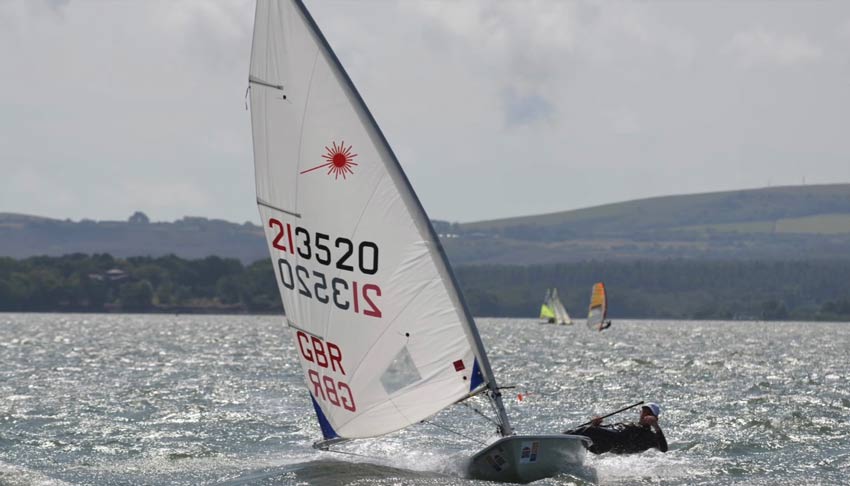 Another club member's success!
Angus Kemp has gained a place in the GB sailing team Laser Radial youth squad. He is one of only seven boys and five girls from all of the UK and Ireland. The squad starts formal training early in November with their first international event in Palamos Spain late December. Needless to say Angus is "Really chuffed"
For Angus it all began over 10 years ago with a tiny little six year old in his Opi of Hamworthy beach on the end of a 100m floating line. He was way too young to do Wednesday nights but the Opi Start Race coach at the time, Tim Edom, said if he did OK at the Club Regatta on the White Course he could join in. Angus went on to win the White Course and so his journey began.
After a couple of seasons in the Opi doing the class Nationals (not very well he was ill) Inlands and several national rankers he moved, following his sister, into the Topper. At nine he was the youngest sailor to make the South Zone Squad, which he did for two years, then at 11 he was the youngest ever to make the Intermediate Squad. After a season in Intermediate he advanced to the National Squad, which gave him two more seasons of high-level training. In his last year of Toppers he won every Southern Traveller event, missed out on winning the Worlds by a fraction, ask him about checking toe strap lines! Angus won his last National Series event and then waved goodbye to the Topper and tried out for the Laser National Squad in the 4.7 rig.
This summer he took part in the Greek nationals on the coast off Athens, followed a few days later by the Youth Europeans at the same venue, a couple of days later the Kemps were off to Germany from Athens, along with one of the girls, as they had both been selected for the GB team to compete at the German Europa Cup. Then home, a day or so later Angus was off to Scotland for the Nationals, straight back to Poole the day after they finished to do Parkstone Youth Week with most of his old 4.7 mates. The Impala Nationals followed a day or so later in Weymouth, then Poole Week back in the Laser, with the summer finished off by the Sonata Lift Keel Nationals, sailing with a bunch of his Laser mates, he was only at home for a hand full of days all summer.
Looking at the diary today, he only has one weekend free between now and Christmas, the rest taken up by two World/European qualifiers, squad training with the Radial Squad, open class training, the Inlands plus the Radial lads are also all starting to train this winter in the standard (full) rig so they are in a good position to transition into standard rigs over the next eighteen months to two years, probably helped by the lure of the 2020 Under 21 Worlds (raced in standard rigs in Garda next summer). Just before Christmas he is off to Palamos in Spain for their Christmas Regatta then the 2020 season starts in earnest.
For any of our Junior Sailors coming through Wednesday nights with aims and passions: train hard, spend as much time on the water as you can, perfect your skills and make sure you are as fit as possible. Try different boats when you can, get involved with our Commodores' Challenge, you will gain huge transferable skills from that alone but most of all make sure it's fun.
2019 Formula Kite Europeans
1 / 1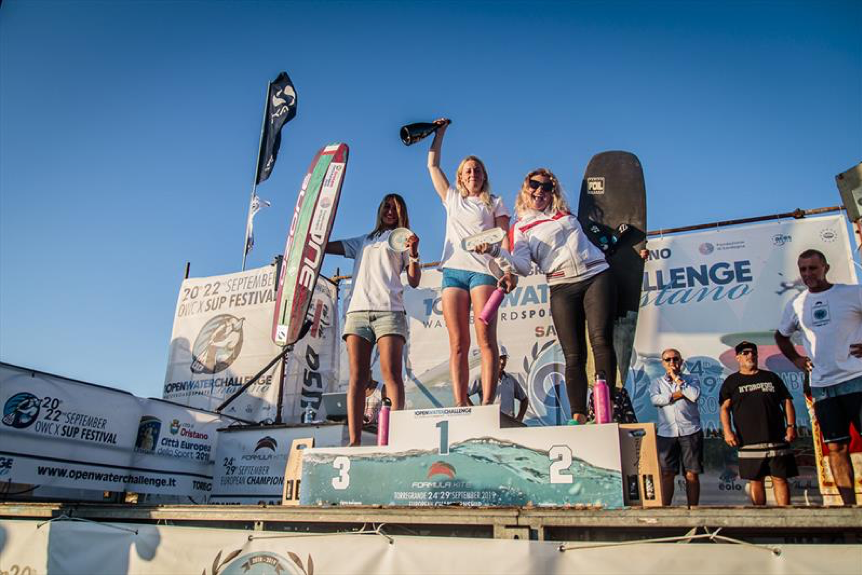 Poole YC's Ellie Aldridge, a dinghy sailor who only began foiling a year ago, took second in the Open Europeans and lifted the European crown with stellar racing that beat off challenges from Australia's Breiana Whitehead and Russia's Valeria Garashchenko.
"It feels a bit mad," said Ellie. "The racing was so intense; so good. Everyone's improved so much. It's really tight racing. It's ridiculous to think that we have all come so far in the space of just a year. All the girls are pushing each other so much."
Aldridge was also part of the British team, paired with Connor Bainbridge, that was victorious in the inaugural Mixed Relay European Championship, when one day of the regatta was allocated to the Paris 2024 Olympics' format event. The duo just edged out the Russian pairing of Alexey Chibizov and Garashchenko.
YJA MS Amlin Yachtsman of the Year
1 / 1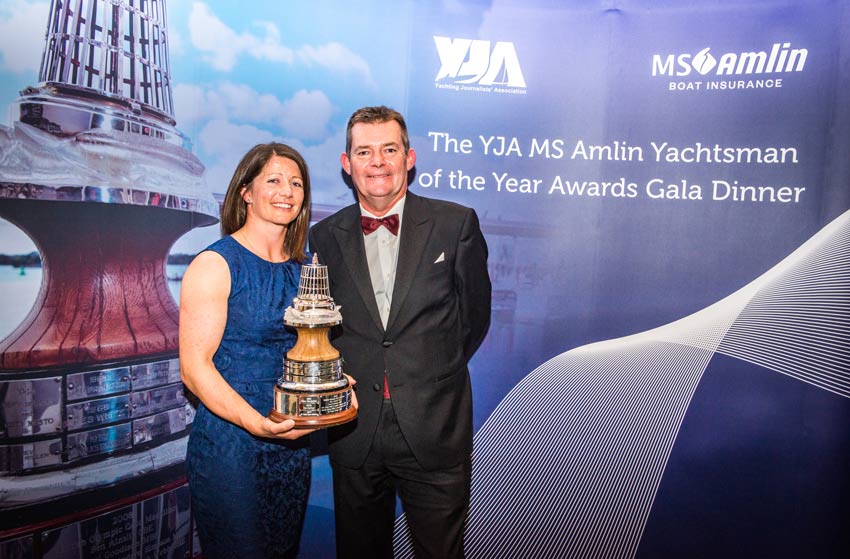 Picture courtesy of YJA/Sally Golden
Lucy MacGregor with the coveted trophy, congratulated by MS Amlin's Keith Lovett.
The YJA MS Amlin Yachtsman of the Year and the YJA MS Amlin Young Sailor of the Year Awards were presented during a Gala Dinner at the Grand Café Southampton on September 13, following on from Press Day at the Southampton International Boat Show. The event drew together the great and the good of the marine world, distinguished guests and many previous winners of the awards.
Lucy MacGregor, four-times winner of the Women's Match Racing World Championship after her victory at the Lysekil Women's Match in August, is the YJA MS Amlin Yachtsman of the Year. '
The YJA MS Amlin Young Sailor of the Year 2019 is Matilda Nicholls, winner of the Women's Laser Radial Youth World Championship at Kingston, Canada.
The MS Amlin Seamanship Award, presented by 2018 winner Sean Rose. The trophy, previously awarded for acts of seamanship in the Round the Island Race, has been extended worldwide in 2019, this year being presented to Roy Disney, the owner of Pyewacket who rescued the team on John Sangmeister's Santa Cruz 70 OEX during July's Transpac 50 Race after they were forced to abandon ship due to water ingress from damage to their rudder post.
Next up was the YJA MS Amlin Young Blogger of the Year Award which was presented to Alex Rabbitt, who produced a fabulous short video story, filmed over a year, which is about the experience a group of youngsters went through in passing their sailing instructor course in Manchester, called 'Journey to Instructor'.
In 2018 the vote was split between two great sailors from different generations - Tracy Edwards and Nikki Henderson - the first time this has happened in the history of the event. Conrad invited Nikki to the stage to present the award to Lucy MacGregor - four-time winner of the Women's Match Racing World Championship after her victory at the Lysekil Women's Match in August. 'Team Mac' took the final 3-0 against French skipper Claire Leroy. -- Mark Jardine
ITCA Nationals
1 / 5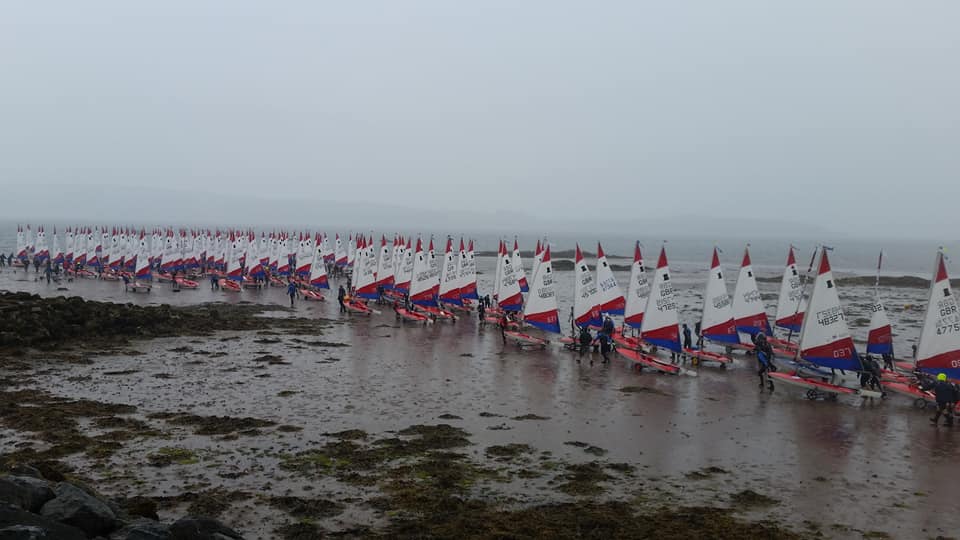 2 / 5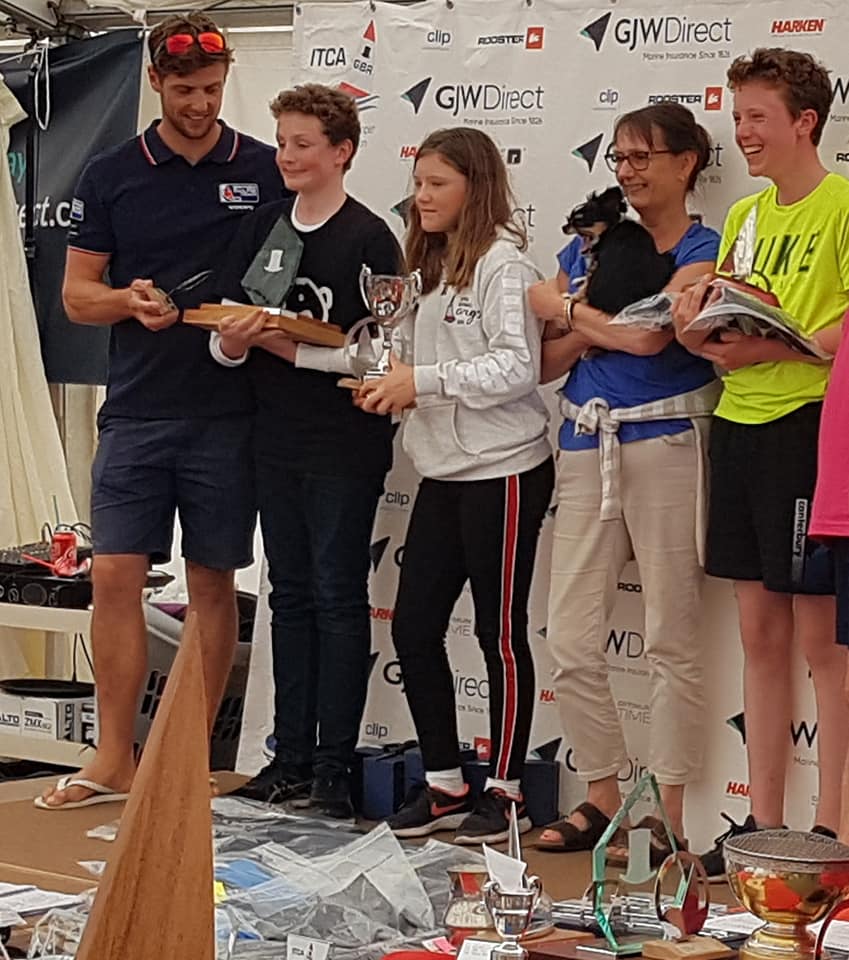 3 / 5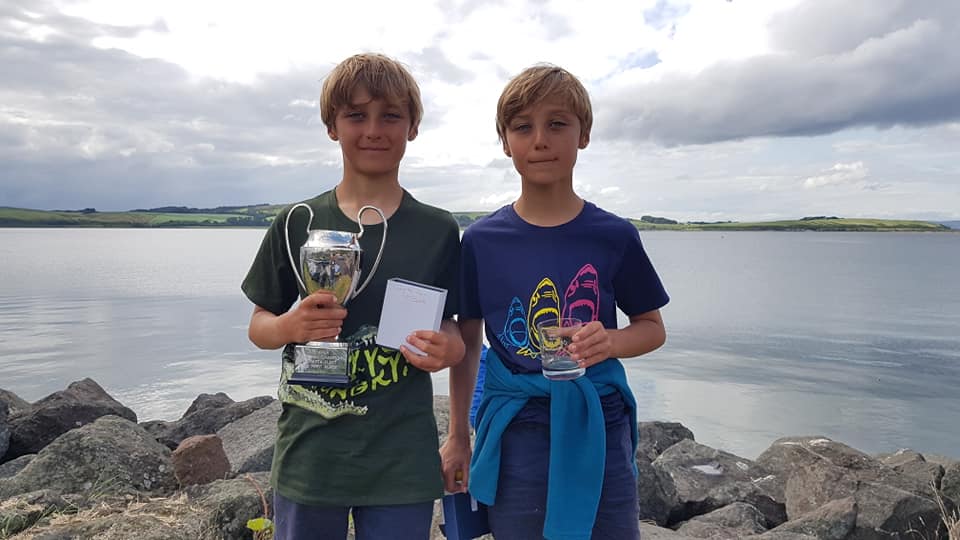 4 / 5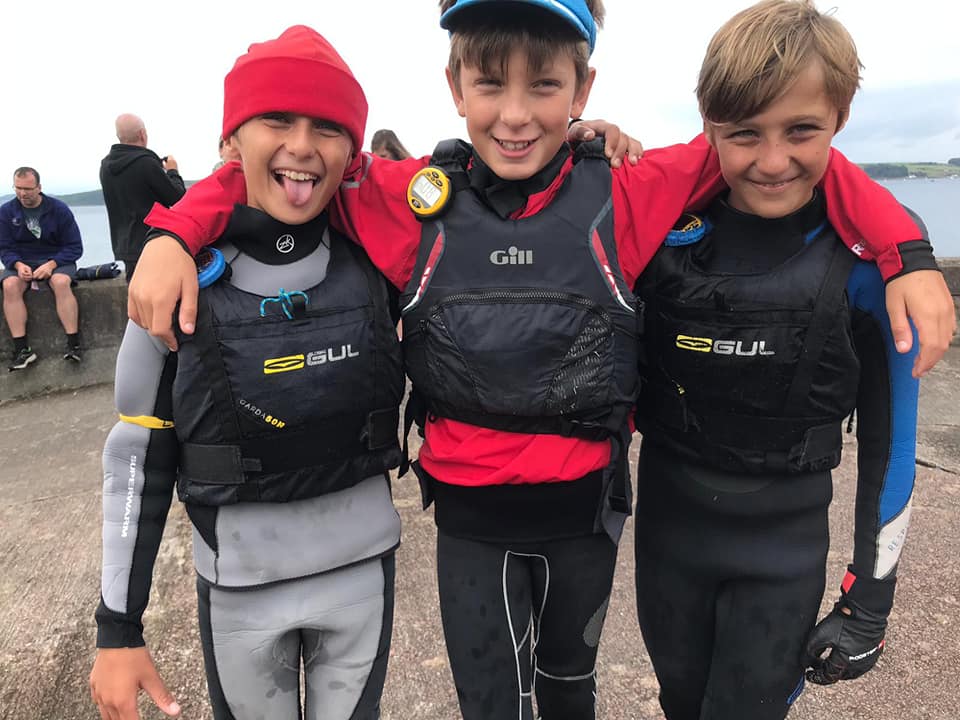 5 / 5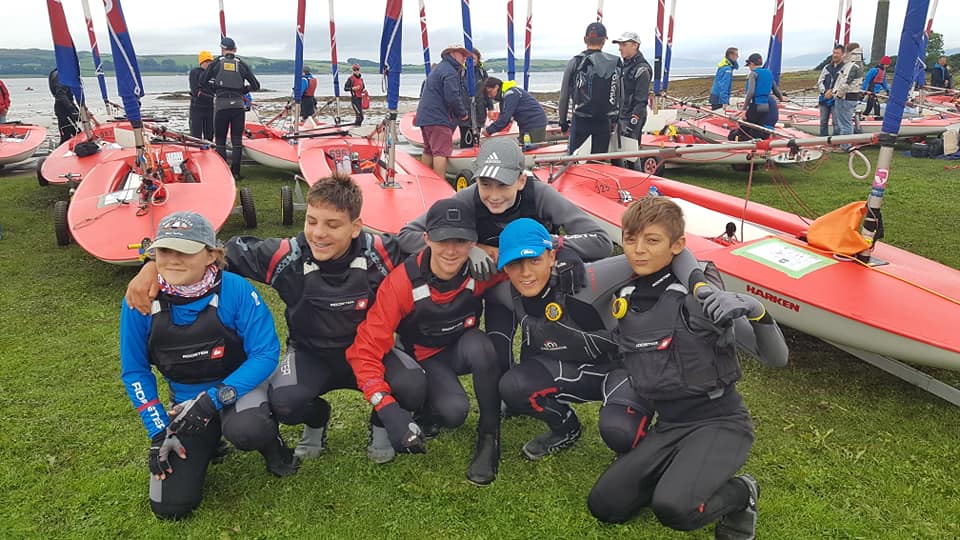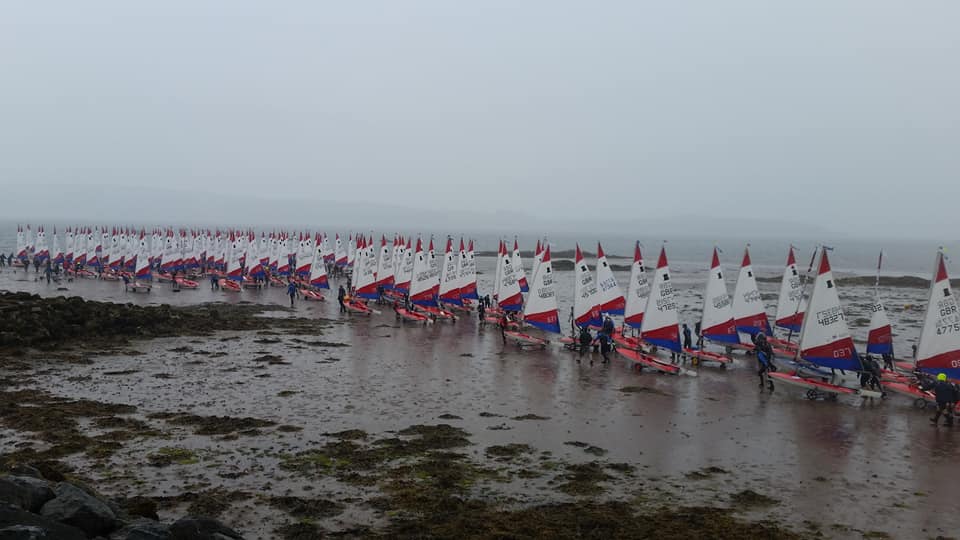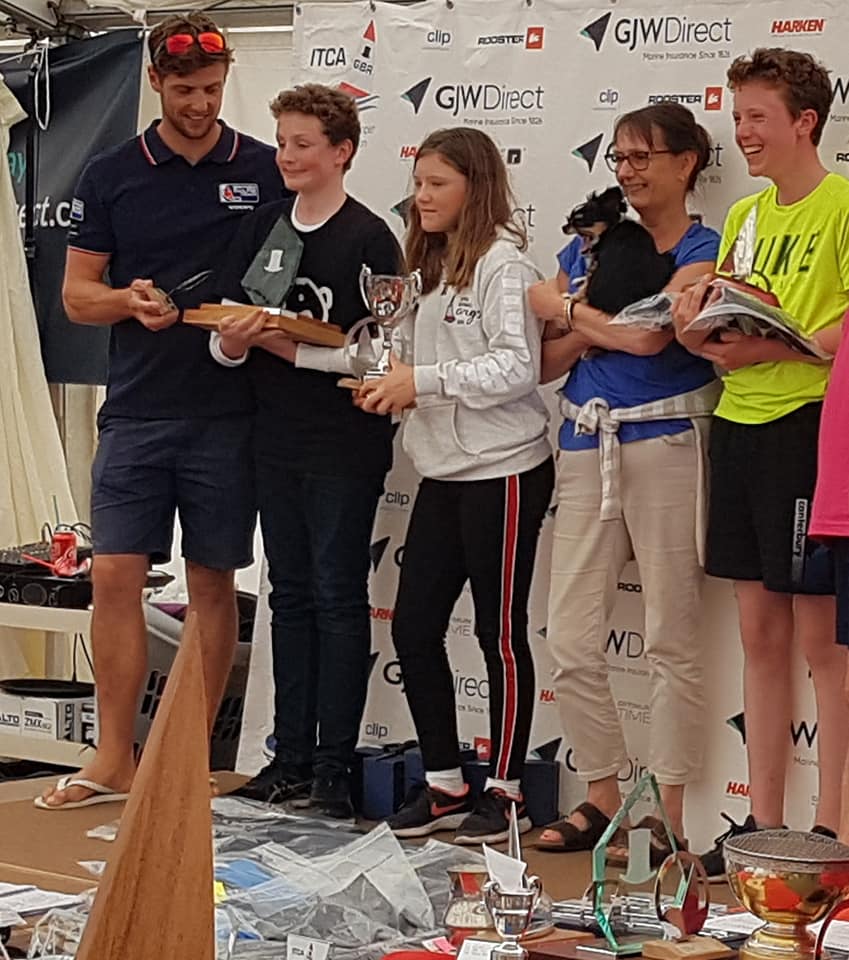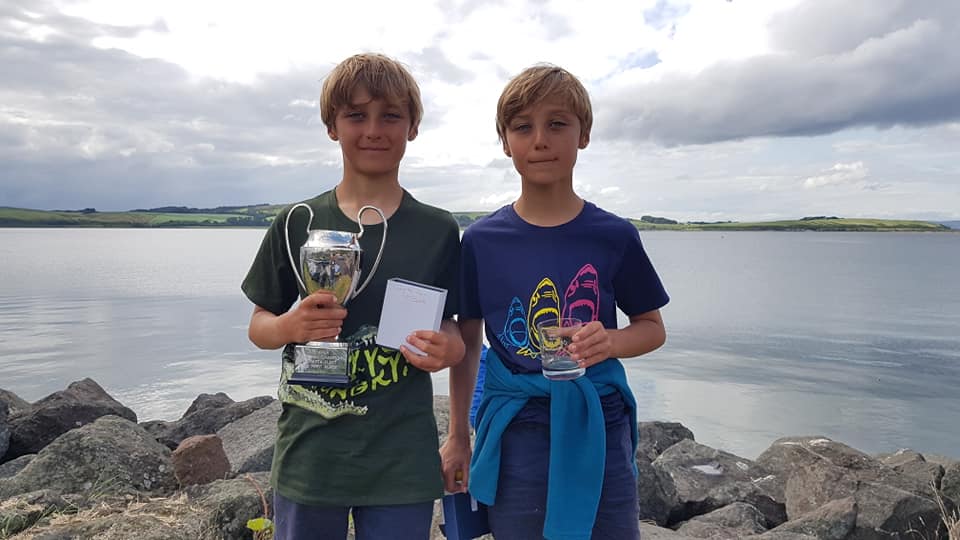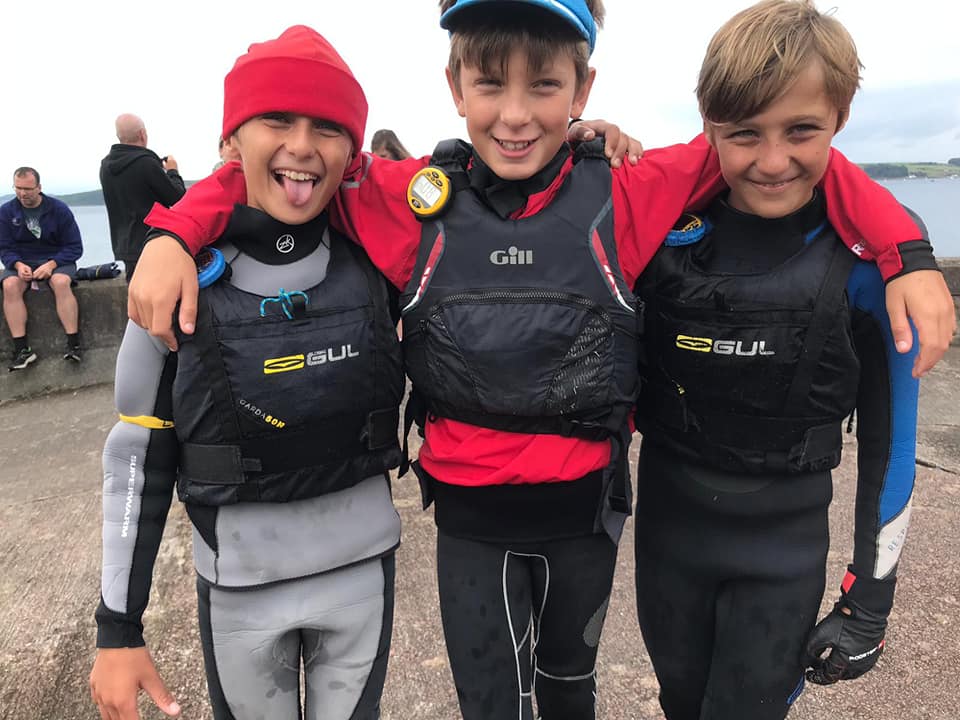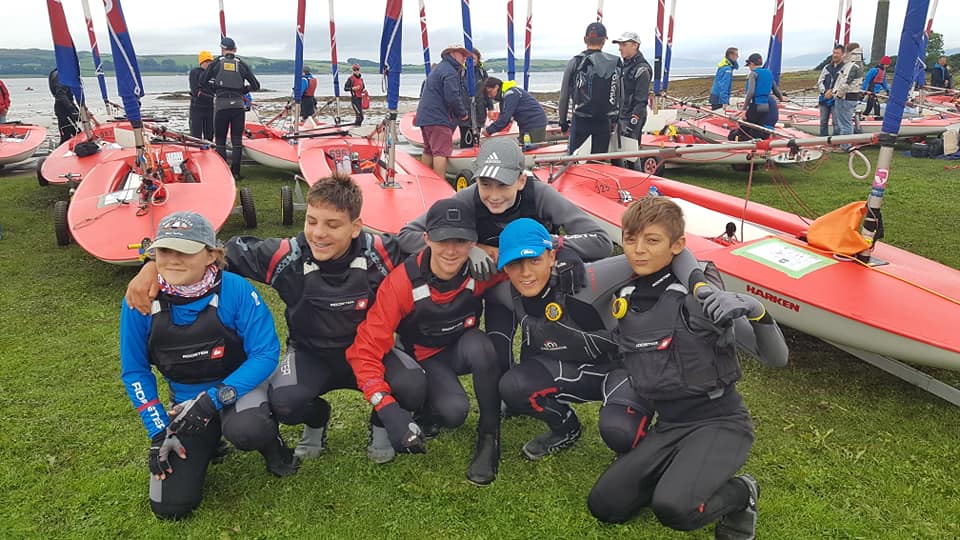 Well done to all the PYC youth members that travelled to Largs in Scotland for the Topper Nationals.
Amber Hale came 1st in the Bronze fleet and Devon and Mason Green grabbed 1st and 2nd in the Regatta Fleet… Brilliant results!
Mirror Write Up
1 / 2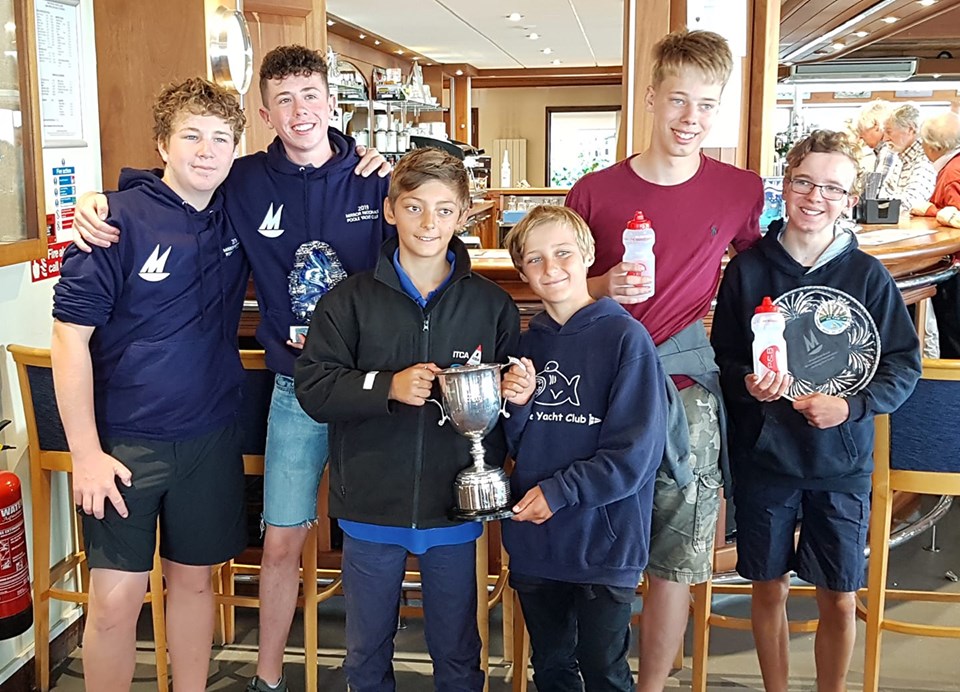 2 / 2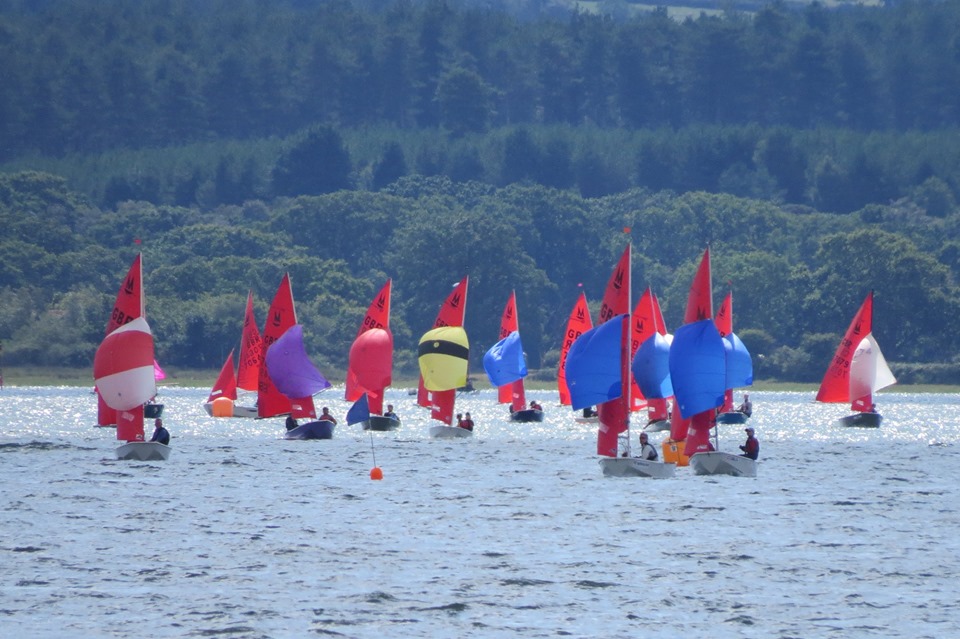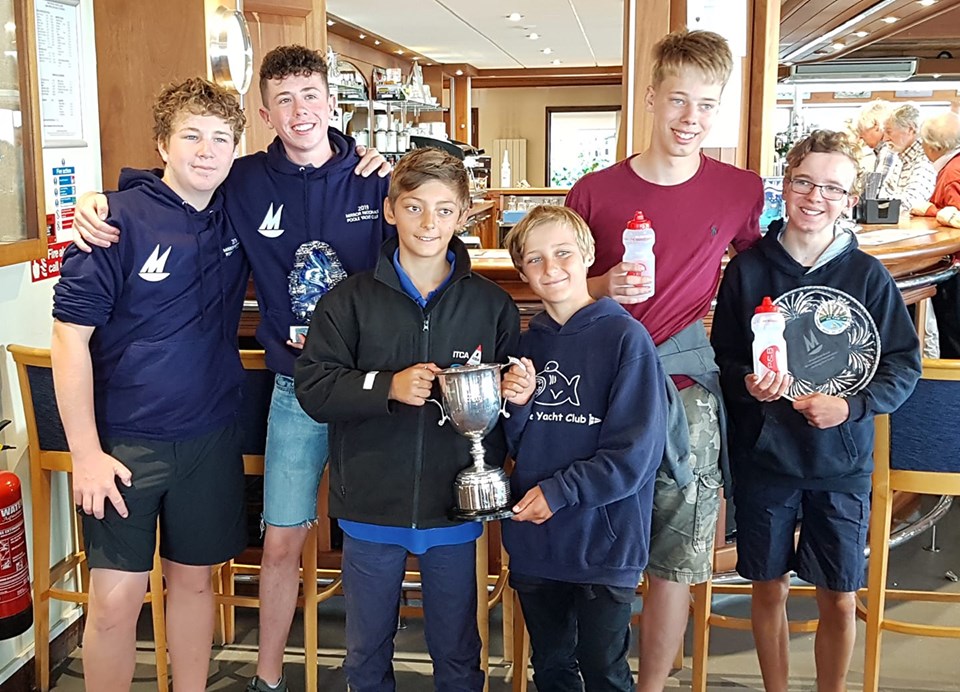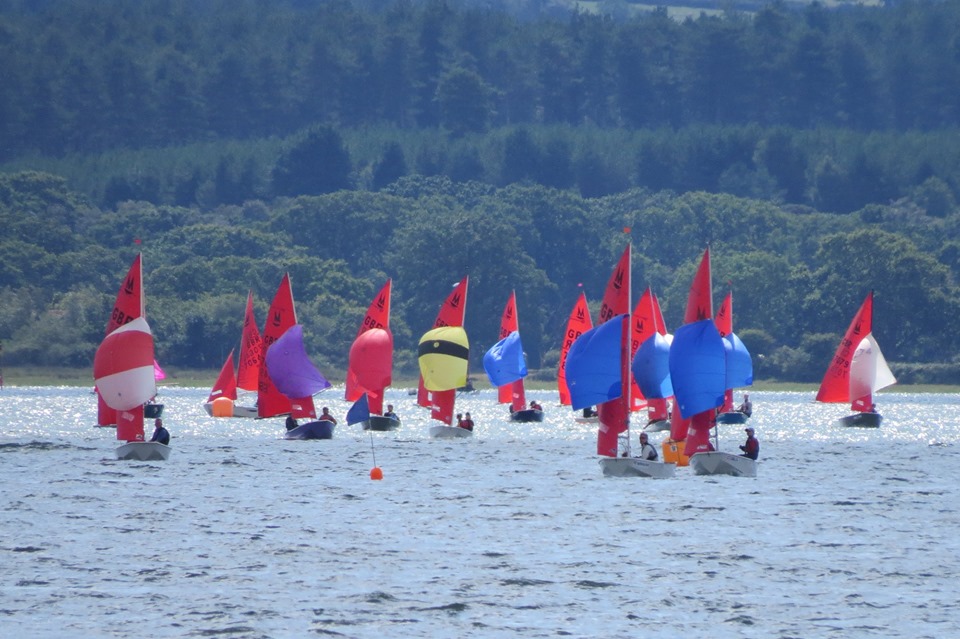 Well done to Steve Bland and Steve Thompson for coordinating a successful National Mirror Event at PYC 11th – 14th August.
It was great to see the harbour ablaze with colour from the 35 boats that were entered. Well done to a number of our Youth members that borrowed boats so they could participate in the event and to the PYC members that received trophies for their efforts
The final results can be found here Results Page