The R19 - One Design Racing Fleet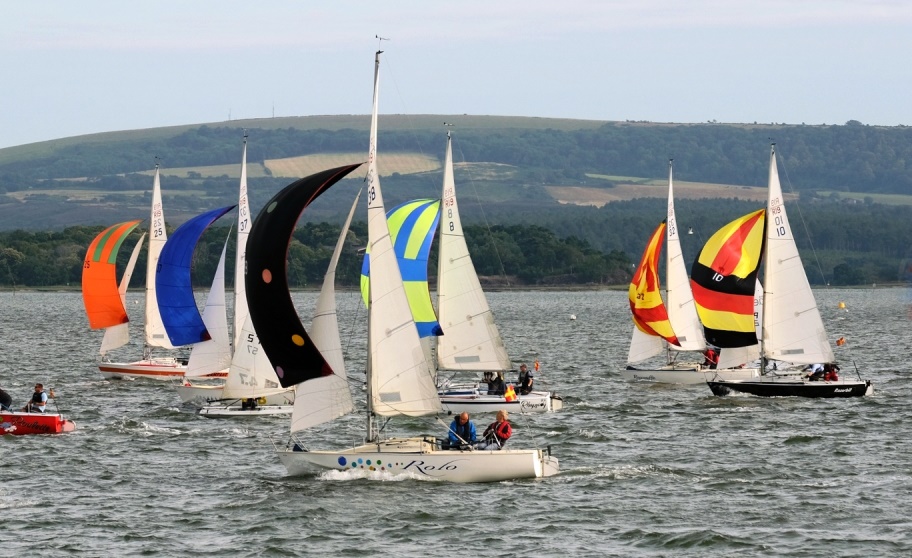 The R19 came to fruition in 1979.
John Wheatley and John Lewis, two members of the Poole Yacht Club discussed the requirement of a small lifting keel yacht for racing/cruising within the harbour of Poole, that could be sailed by two and if windy a third crew. The boat was to be fitted with a toilet, a single burner and two pipe cots.
Following discussion Richard Roscoe - a naval architect, the R19 was designed and built with the hull displayed at the Poole Boat Show in 1979.
This followed by nine boats being produced and fitted out by John Lewis and Dave Gerrard.
Roy Owers became the Treasurer. Graham Lee carried out the purchasing of all sails and fittings and fitted out his own boat – No.3.
In all thirty six R19's were built between 1979 and 1999.
The build periods were 1979, 1980, 1987, 1988 and 1989; the last ten R19's were built in 1999.
Two boats – 16 and 17 were privately constructed.
A full list of constructors is available.
Boats No. 1 and 2 were totally destroyed in storms in 1981 and 1984.
Class Contacts
Peter Chaldecott
Class Captain
Mark Walker
Vice Class Captain
Mel Brown
Social Secretary
R19 - Get Involved
Currently up to 30 R19's race at Poole Yacht Club.
The R19 Class race from March to December.
Sunday mornings during the Spring and Winter period.
Tuesday and Thursday evenings during the summer.
With a single handed series on a Friday.
Occasional races Saturday and Sundays
If you are reading this and think this may be for you, please contact us through our email address, Facebook, or even come and find us down on the pontoon on Racing nights. We also have a notice board in the club where sometimes the need for crew is advertised. We are always able to find someone that you can go out and have a sail with and experience the thrills and spills of an R19.
Graham Lee – Copy of written letter.
Length 19' chosen because there were a number of fast 18' boats at the time and wanted to be different.
Original keel hauled up by a Turfor winch.
Bridge decks on cockpit floor with the result that main could not be spilled in gust, hence jib of R19, as liable to capsize.
I believe original masts were Proctor; might have been provided by Dick Jobbins who certainly produced running gear.
Derek Shaw built original mould and first hulls.
Original centre plate too light, would have new or ballast centre of boat.
Hope this helps
Graham Lee.
R19 History
R19 HISTORY as remembered by Gerry Robinson (original owner of RAZORBILL)
A small group of active PYC MEMBERS approached yacht designer, Richard Roscoe to design a small racing/cruising yacht along the lines of the 'Mini-Tonner's' that were being built in various boatyards around the country at that time. The brief that they presented included the fact the yacht should have a lifting keel to make it suitable for Poole harbour but should still keep some keel exposed to make it suitable for mooring on trots off the (old) club as well as keep in line with the tides flooding or ebbing. The yacht should have 2 full-size berths as well as a toilet and cooking facilities. ……it should also be easily trailerable and beachable. Construction should be of a balsa core / GRP sandwich for strength and to be unsinkable. The boats would be identical, finished white with a wide blue stripe along both sides and grey and white topsides. A working crew of 2 or 3 but able to be sailed single handed.
The original group formed a syndicate who would each put up their share of the costs of the construction of the moulds and when boats were built would buy their own boat. The 9 members needed a tenth member and Gerry R was approached. He agreed as long as he could have a black hull with white stripes! Harry, his business partner, and one of the syndicate said, "…If he is having a black one, I want a red one !"
Syndicate members included John Lewis; Brian Sadgrove; Roy Owers; John Wakley; Graham Lee: Jim McGregor; Harry Evans; Gerry Robinson; (plus 2 more) Each would receive £10 (£100 total) following the sail of each future boat!
So the first 10 were built ! (2 or 3 different builders, I think – Fry Ltd Hamworthy was one )
The moulds were then taken to a builder on the Isle of Wight but word got back that the business was in financial difficulty before they had finished the first boat. In true adventurer style, in the early morning light of a weekend, two cars towing empty trailers caught the Lymington to Yarmouth ferry and on to the Fort on the Island side of the Hurst Narrows where workshops had been setup under the arches of the building. The moulds and part finished boat number 11 were retrieved by the syndicate team as rightful owners and they returned to Lymington on the next ferry and on to Poole.
Once the fleet was established the group started racing in their own class. One winter, a few of the serious racers decided to sail to Lymington to join the Spring series race fleet there as there was no racing in Poole. The boats were left at Lymington and crews drove over each week to race against the 'BIG BOYS'. Gerry Philbrick as one of various crews, said to Gerry R in his usual colourful way that the other boats were ***** **** (scarily very big!) and asked if he was **** ****** ( nervous?) Another anecdote was remembered when it was realised that another crew was colour-blind and couldn't identify Sourley Buoy in the distance!
At the end of the series, the sail back proved to be a further adventure in the rough conditions. Hatches and wash-boards were always secured in rough conditions even then.