Poole Yacht Club Osprey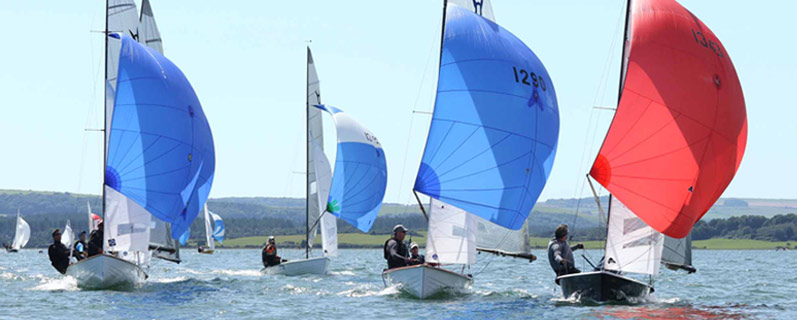 Would you like to fly over the water with spray in your face, a speedboat-like wake behind you and the joy of being attached to the boat only by your feet and a trapeze wire? If the answer is yes, then the Osprey is the boat for you.
Widely known as the Bentley of racing dinghies, the Osprey is a high performance, traditionally designed, 17ft 6 boat. The Mark IV boats are made of GRP (fibreglass). The Mark V is an epoxy construction, and made its first appearance in 2016. Hartley Boats have recently announced the arrival of the Mark VI Osprey. However, wooden Mark III boats can be inexpensive and competitive. Because of the one design concept, buying a new model does not buy you a win. The Osprey has a large genoa and an even larger spinnaker, both of which require the crew to balance the boat on a trapeze wire, as they plane in winds above force 3. The Osprey is both a really exciting boat to sail and a very seaworthy vessel, capable of handling light winds or force 6. It planes beautifully on flat water and is entirely comfortable in waves
Class Contacts
Chris Playfair
Class Captain
Stuart Maunder
Social Representative
Mike Richardson
Treasurer
Dave Best
Results Secretary
Alistair Watkins
Vice Captain
Osprey
Welcome to Osprey sailing in 2022
We have a full season of racing ahead of us. Our main race sessions are Monday and Thursday evenings from April to September. We race with the handicap fleet on Saturday afternoons (April to May and September to March). Throughout the year there are weekend trophy races and regattas.
We are often looking for crew and always looking for potential new boat owners.
Contact Chris Playfair on 07952551524 or chrisplayfair@gmail.com or use the Facebook crew available section on the website.
Poole Yacht Club will host the Osprey/Fireball Open event on May 21st & 22nd
Nationals are at Porthpean, Cornwall 3rd to 6th September
Osprey Specification
Designer:
Ian Proctor
Portsmouth Number:
​935(PY)
Measurement
Feet
Meter
Length
17'6​​
5.33
Beam
5'9​​
1.75
Draft
​​​​4'10​
1.47
Length of Mast
24'0​​​
7.32
Sail Area
Sq. Feet
Sq. Meters
Main Sail
100​​​
​9.29
Spinnaker
185​​
17.2
Weight(min):
​​​​ 295lb 134KG
Construction:
Wood, GRP and Composite.