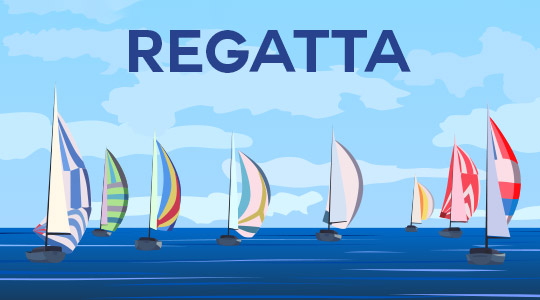 Poole Yacht Club Regatta
The highlight of the Club's sailing season. Three days of social and racing sailing, trying new boats, eating, drinking, dancing and having fun by the sea.
Come and enjoy your Club.
For social sailors, there is an expanded Friendly Fridays. On Sunday come and try a new type of boat, in lieu of Social Sundays.

For dinghy racing there are 4 race courses on Saturday.
Enter and we will find the right place for your boat.
On Sunday morning we have a pursuit race.
For cruisers there is the Twilight Pursuit Race on Saturday
Free boat entry if you have paid either race or social fees and have the required £3m insurance.
Don't fancy sailing?
Throughout the weekend we will have barbecues, snacks, the usual bar and a Salcombe Gin Bar and a festival feel throughout the Club.
Saturday evening we have music to warm you up for the night-time dancing.
---
Friday Evening

An enlarged Friendly Friday Sail. Come and enjoy a gentle, safe sail followed by Tom's famous barbeque on the balcony. Or just come for the food!

Saturday Day

Committee boat starts for 4 classes. If you do not know what fleet you are in email: training@pooleyc.co.uk

Laser Fleet

Lasers and Aeros

Youth Fleet

Topper, mirror, Fusion, Optimist (stage 4 and above)

White Course

Oppie 1, 2, Fusion beginners and Mirror group. In Ham Bay

Main Fleet

All other dinghies

Saturday Evening

Twilight Pursuit
Jim Etherington; singer extraordinaire
The Big Nite Out, Dancing to this top rate band

Sunday Morning

Sunday Afternoon

Come and try out any of the Club's fleets: GP 14's, Lasers, Ospreys, Hobies, Dayboats, R 19s and cruisers. Request the boat ride of your dreams on the entry form and turn up dressed appropriately.
If you would like a trip on a cruiser please email training@pooleyc.co.uk
On Land
Swimming Pool
Crabbing
Sandcastle competition
Photo Booth
Cake Donations - Bring cakes on Saturday morning to be sold in aid of the Commodore's charity throughout the weekend
Evening – 'Jim Etherington' & 'The Big Night Out'
BBQ
Bar Event – in partnership with Salcombe Gin
And more, don't miss out!
---
Try a Boat
Give a try to new type of boat with the helpful guidance of an owner member.
The available boats are:
Laser
Optimist
Fusion
Topper
Mirror
GP14
Osprey
Dayboat
420
Aero
Hobie
---
Pursuit Race
Many of you will have done a pursuit race before, but for any who haven't here is brief outline of the fun:
The idea is that all boats sailed to their full capability finish at the same time – for the regatta the finish is at noon on Sunday 3rd July. To compensate for the different speeds the slowest boats start first (likely to be Optimists at 10:30 a.m. which is the official start time). All boats then have a later start time back calculated using their Portsmouth Yardstick Handicap Number for 2022). You don't have to do the calculations, as a table of start times will be posted for you.
As examples, Topper 4.2s start at 10:42 a.m. thus giving the Oppies a 12 minute head start, which they have to catch up and overtake by the finish at noon. The finish is judged by the race officer on a RIB finding the lead boat at noon exactly and then motoring through the fleet, which hopefully will be bunched together if they have sailed to their handicap, recording the order of finishing.
As well as the overall prizes the classes are encouraged to reward the first boat of their class. So you Toppers are thinking, if I can see an Oppie 12 minutes ahead of me I should be able to catch it in 78 minutes! However if you look behind you, you'll see a fleet of faster boats trying to catch you; this includes Lasers starting at 10:59 a.m. with 61 minutes to catch you, up to maybe an RS800 starting at 11:16 a.m. and has only 44 minutes to catch that Oppie that's already been sailing for 46 minutes!
Best plan to come along to the briefing on the patio at 9:30 a.m. to find out the course and ask any questions.
---
Timetable
Friday 1st July
6 p.m.

Friendly Fridays – Social sailing

7 p.m. to 9 p.m.

Barbecue
Saturday 2nd July
All Day

Swimming pool

8 a.m. onwards

Bring your cake donation to the Commodore's Charity Appeal

8:10 a.m. onwards

Volunteer Registration

8:30 a.m. onwards

Competitor Registration

8:30 a.m. to 10 a.m.

Bacon or Egg Baps from the bar

8:40 a.m.

Volunteer Briefing

9 a.m.

Competitor briefings

10 a.m. to 7 p.m.

Cream Teas available

10:25 a.m.

Earliest first warning for 4 dinghy courses

10:30 a.m. to 3 p.m.

noon to 4 p.m.

Regatta Saturday BBQ Menu
Baguettes/Sandwiches

3 p.m. to 4 p.m.

Crabbing

3 p.m. onwards

Photo booth in the lounge

5 p.m. to 8 p.m.

Jim Etherington Live music

4 p.m. to 6:30 p.m.

Pasties, Pastries and Sausage Rolls

5:55 p.m. to 7:30 p.m.

6:30 p.m. to 8:30 p.m.

Seaside Holiday Chip Shop Menu

8:30 p.m. to 11 p.m.

The Big Nite Out Live music and dancing
Sunday 3rd July
All Day

Swimming pool
Sandcastle competition

8:30 a.m. to 10 a.m.

Bacon Baps from the bar

10 a.m. to 3 p.m.

Cream Teas available

10:30 a.m. to noon

noon to 3 p.m.

Regatta Sunday BBQ Menu

2 a.m. to 4:30 a.m.

4 a.m. onwards

Prize Giving
---
Saturday Evening Menu
Sunday Menu