Poole Harbour Watch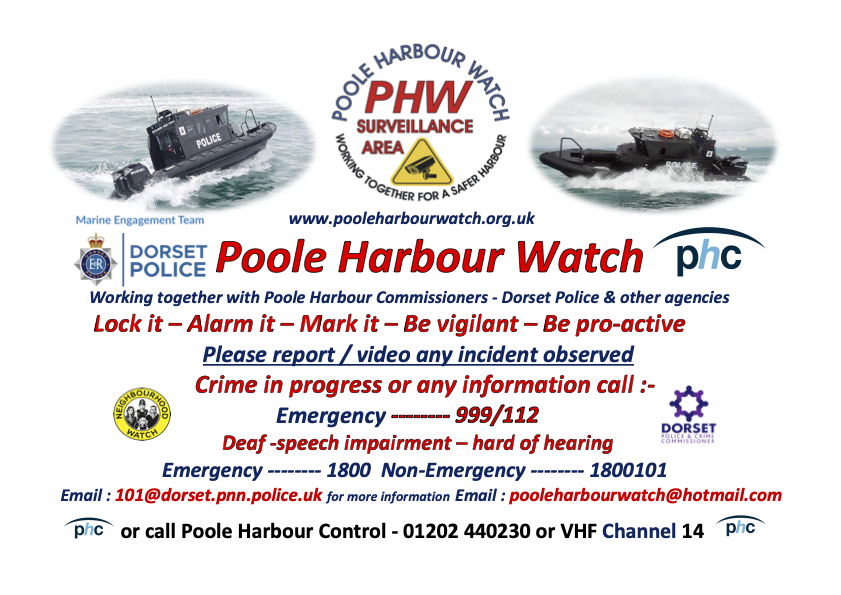 Dear Members
Poole Harbour Watch
We all have a shared interest in the security of our property and the safe, responsible use of our waters.
Now the season is underway I thought it would be timely to update you on Poole Harbour Watch (PHW) and to ask you to be vigilant in reporting any incidents you may observe when out on the water.
PHW is a community organisation run by volunteers with the close co-operation of enforcement agencies including Dorset Marine Police, Poole Harbour Commissioners, UK Border Force and the Association of Inshore Fisheries and Conservation Authorities.
As well as initiating regular liaison between these agencies on behalf of all harbour users, PHW also undertakes regular patrols of the harbour. These patrols are organised on a reciprocal basis by all sailing clubs in the harbour and our Michael Jones on night.watch@pooleyc.co.uk is our representative, coordinating patrols for us here at Poole YC. Michael would be pleased to hear from you if you are interested in knowing more and / or volunteering to do a patrol duty.
We are constantly reminded by Dorset Police and Poole Harbour Commissioners that the regular reporting of incidents not only helps to prevent crime and irresponsible behaviour, it can also impact on the resources which are deployed by the enforcement agencies controlling the harbour. Accordingly, please see the attached circular including the most effective ways to report an incident.
Thank you to all the members that undertake Harbour Watch duties, and to Michael for the time he spends in coordinating the rosters, and to our Jim Macgregor in his role as Chair of Poole Harbour Watch Committee.
Kind regards
John