Poole Yacht Club Laser/Aero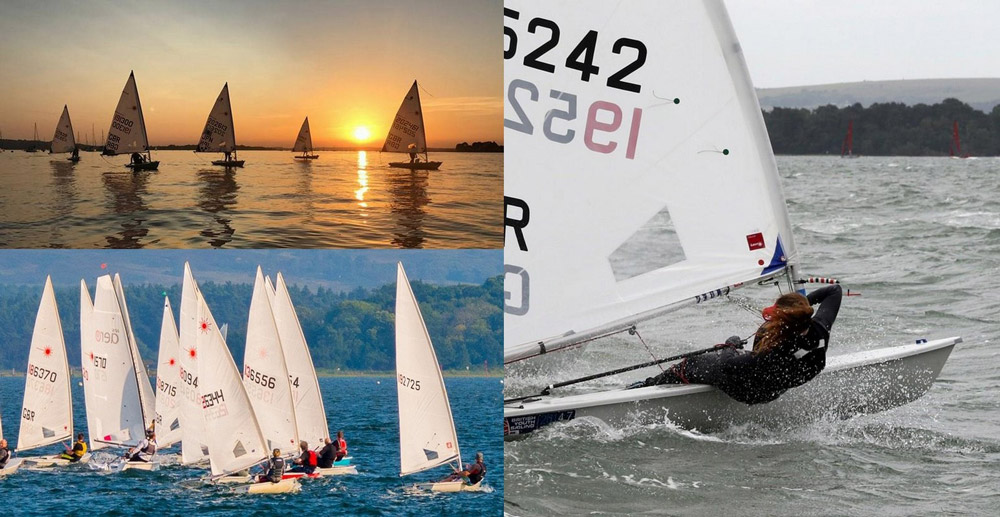 Hello and welcome to the Poole Yacht Club Laser/Aero page. We are always looking for new members to join the fleet.
The Laser is a cheap entry point to sailing and with no crew needed, it's just you and your dinghy. For those sailors who don't own a boat, the Club has Lasers for hire via a booking site. The Laser Standard and Radial are also Olympic class dinghies.
Racing is the biggest part of the fleet's activities, being competitive and good humoured with lots of encouragement for new sailors to join in. There are over 40 Lasers registered ranging from novice to experienced sailors. Race scoring is accomplished using the Sailwave application under the RYA Local PY system to improve the fairness of the racing.
Three new sections have been recently added to the Laser/Aero fleet, namely "The 4.7 Club", "Laser Cruisers" and "Laser/Aero Youth".
The 4.7 Club(Sometimes Radial) is a spin off from a group formed a few years ago, when some Mums and Dads became keen to sail like their children. This section is for those sailors, who would like to join in the main racing eventually but do not feel ready to plunge straight into the "deep end". All race training will take place in a benign environment and it will be up to the individual to decide when they are going to take the plunge.
If a gentler sail is more to your liking then the Laser Cruisers section may be for you. What better place than Poole Harbour to explore, with its many inlets and islands. With the assurance of a Safety Boat in attendance, this could be something you might enjoy.
The Laser/Aero Youth section has been set up to fulfil the needs of the up and coming Laser/Aero sailor. Typically, this sailor would be a teenager who is ready to move on from sailing in a Topper or Mirror dinghy.
The Club provides comprehensive training(including Lasers) for those new to sailing. These training sessions take place on Monday evenings.
Social events are often held during the year and Friendly Fridays are a good way to sail with different types of dinghy and get to know other members. On return to the Club a BBQ and drinks party is laid on. Please get in touch, it would be great to hear from you. Contact details are provided in the associated welcome messages.
Class Contacts
Stephen Ehrhart
Class Captain
Sue Gibbs
Vice Class Captain
Giles Strong
Results Secretary
Racing
We do not record race results – our fleet is so large that a DNC will award you over 45 points and with only 2 discards per series it makes a mockery of the results – the person that races the most will always win.
You know who you want to beat.
Also we usually have so many boats coming over the line in the space of 5 seconds no one can write that quick and even goal line technology will struggle.
Go out and beat your friends – it's the best way.